9 Best Off Road Electric Scooter 2023: Top Picks & Reviews
Not all electric scooters are built for the purpose of commuting and cruising around the city. Some heavy duty electric scooters can be used for going on adventures such as dirt and trail riding. 
An electric scooter made for off-road riding should have a powerful motor that is capable of climbing hills, a sturdy body and frame for heavy-duty use, and tires that can ride through any kind of terrain. It also needs to have good shock absorption for a comfortable ride. On top of all these, it must have reliable brakes and safety features for a fun and safe ride. 
In this article, we round up some of the most outstanding choices of off road electric scooter that you and your whole family can enjoy. After we go through the list, continue reading the article to find out how to pick the best off road scooter for you.
Compare BEST Folding Electric Scooter
Rank
Products
Feature
Website
Best Overall
✔ Good for any type of terrain
✔ Versatile electric scooter
✔ Powerful motor
Best Premium Option
✔ Good speed
✔ Insane range
✔ Fast charging
Best Cheap Option
✔ 2 speed modes
✔ Decent speed and range
✔ Affordable
Best for Heavy Adults
✔ Affordable
✔ Manual brake allowed
✔ LED displays vital information
Best All-terrain for Kids
✔ Great for all-terrain and uphill travel
✔ Neat design and aesthetic
✔ Durable
Best All-Terrain for Teenagers
✔ Excellent weight capacity
✔ Excellent speed and range
✔ Anti-theft design
Best Top Speed
✔ Extended range
✔ Fast maximum speed
✔ Tons of safety features
Best Range
✔ Incredible range and battery
✔ Insane top speed
✔ Battery and speed indication
Best 4-wheel All-terrain Electric Scooter
✔ Powerful output
✔ Superior quality sine-wave controller
✔ Hydraulic brakes for precision braking and safety
11 Best Folding Electric Scooter in 2021
The Nanrobot D4+ deserves the top spot because it perfectly combines the most important elements of an excellent off road electric scooter. It is a versatile scooter that boasts of power, speed, range, and comfort. This makes it the best scooter for off-road riding and commuting as well. 
Power, Range, Speed
The Nanrobot D4+ is equipped with two 1000-watt motors that provide a significant amount of power for both off-road riding and for going fast. It can reach speeds of 40 miles per hour and distances of up to 40 miles, depending on the terrain, and rider weight. 
Equipped with all the Features you Need
The D4+ is built with all the essential features for any type of riding. The 10-inch pneumatic tires and six shock absorbers provide the adequate shock absorption to ensure a comfortable ride, even through rough roads. The steady braking system is reliable when you need to stop to avoid hazards.
It also has two charging ports for your phone, and an LCD display of your speed and remaining battery life. With the combination of its performance and features, the Nanrobot D4+ is one of the best all-around electric scooters ever released.
Specifications
2. Maxx Outstorm Electric Scooter
The Outstorm MAXX electric scooter gives power to the max. The wide deck is well-built and stable. It is fast and can go the distance. It is equipped with the right specs you need for a fun adventure.
Power, Range, Speed
The Outstorm electric scooter is equipped with not one, but two 1600-watt motor and a 60-volt 25 Ah lithium-ion battery to reach speeds up to a whopping 56 miles an hour. That is almost enough speed to ride the freeway and interstate roads. This premium option has it all, and it is definitely not a toy. It is a fast machine that can take you places quickly. If you want more power, you can upgrade to the 5000-watt motor variant of the Outstorm electric scooter. 
Heavy-Duty Quality for Heavy-Duty Use
The Maxx by Outstorm can ride inclines with a 30% grade. Imagine all that power put into one scooter. It is understandable for a machine of this caliber to be as heavy as 100 lbs. It will need heavy materials and a quality build to accommodate all that power.  It is also equipped with 11-inch pneumatic tires for a smooth ride on any terrain.
This electric scooter does not only excel in speed and range, but it is also equipped with safety features such as two big headlights, a detachable seat, and a remarkable oil braking system that works like a dream.
Specifications
3. Super Turbo Elite 1000w
If you are looking for an affordable option, the Super Turbo Elite is what you need. This electric scooter can go at decent speeds and ride through different terrain and inclines with ease. With this electric scooter, you are looking at a comfortable ride for a fraction of the price. 
Power, Range, Speed
The 1000-watt motor and 36-volt battery of the Super Turbo Elite can reach speeds up to 27 miles an hour and distances of 18 miles. It is a pretty decent speed considering the affordable price. Moreover, it rides smoothly, and it is equipped with a seat to provide extra comfort.
The Super Turbo Elite is also suitable for beginners and experienced riders alike. It has two speed modes; the Econo mode is recommended for beginners, it goes slow, but at the same time, saves battery to reach a further distance. If you want to go at max speeds, you can select the Turbo mode once you get the hang of things. 
Off-Road on a Budget
The Super Turbo is equipped with 10.5-inch air-filled tires along with a stable front and rear suspension. These specs make the Super Turbo ideal for both commuting and recreational use. It cannot handle extreme deep sand or wet surfaces, however.
Specifications
If you need an electric scooter that can carry the weight of heavier adults and teens, the Q1 Hummer is the electric scooter you are looking for. It has enough power to carry a maximum load of over 500 lbs. without compromising speed and power output. 
Power, Range, Speed
For an 800-watt motor, the Qiewa Q1 Hummer can surprisingly handle its weight. It can travel at speeds up to 37 miles per hour, even with a heavy load. It may get a little slower when going uphill, but you can still feel the high torque the motor provides. It has an effective 48-volt battery that helps it reach a 65-mile distance. Charging time is quite fast considering the range.
Sturdy, Waterproof, Built for Heavy Riders
The Q1 Hummer is all about the structure. It is designed with a harder folding mechanism that can withstand the hardest impact and vibrations without getting deformed. It can accommodate adults of any height with its adjustable handlebar. Plus, the shock-absorbing design makes up for a comfortable ride on any kind of terrain.
One of the most notable features of the Q1 Hummer is the anti-theft design. This electric scooter comes with a lock-and-alarm system to prevent theft.
Specifications
Off-road riding is not only limited for adults. Kids can also enjoy riding through dirt trails and rough roads with the Uberscoot 300w electric scooter. It is the smaller version of the Uberscoot 1000w. 
Power, Range, Speed
The Uberscoot 300 is equipped with a 300-watt motor that runs at speeds safe enough for children to enjoy. 13 miles per hour might be slow for adults and experienced riders, but it is sufficient enough for an exhilarating ride for younger kids. The Uberscoot 300w is also suitable for inexperienced riders. 
This electric scooter can reach a 10-mile distance, which is enough for kids to enjoy. That is about 40 minutes of continuous riding. Charging time is pretty decent. It only takes about 3 to 6 hours to get a full charge. 
Designed for Boys and Girls, Safe and Reliable
The Uberscoot 300w comes in a variety of different colors that are gender-neutral like black, and gender-specific like pink or blue. For added safety and reliability, this scooter is equipped with a rear disc brake and a reinforced steel frame for stable riding on any kind of terrain. The 9-inch tires help a lot with shock absorption, making the Uberscoot 300w a very enjoyable and comfy ride. If you have younger kids, you can also try the Ubesrscoot 100w.
Specifications
This next electric scooter boasts of aesthetics and power that teens are sure to appreciate. The Qiewa Q-Mini is the younger brother of the Q1 Hummer, which means it shares some of the Q1 Hummer's best features, such as speed, power, and durability. 
Power, Range, Speed
The Q-mini has a 500-watt motor and 48-volt battery that provides a lot of power. Experienced teen riders would have a blast riding speeds that go up to 37 miles per hour. They could use this electric scooter for commuting as well as hitting the trails.
Smooth, Stylish, and Durable
The Qiewa Q-Mini is equipped with solid rubber tires for a smooth ride even through the roughest of roads. These tires are literally solid, which means you can say goodbye to flats. Teens would also love the fact that the Q-Mini is very portable and easy to fold. 
The Q-Mini has excellent shock absorption and suspension which makes it possible for teens to bust out some tricks such as bunny hops or drifts.
Specifications
The Wolf Warrior 11 is the definition of a heavy duty electric scooter. It looks like it can handle heavy-duty use at first glance because it can. The Wolf Warrior 11 is not only fast, but it can also take the heaviest hits. Overall, it is a fantastic ride where style meets comfort and performance. 
Power, Range, Speed
The massive 4400-watt motor can reach a maximum speed of 50 miles per hour, but it does not stop there, the Wolf Warrior can reach a maximum distance of 70 miles on a single charge. The speed and range are very impressive. Plus, It can also zip comfortably through any type of terrain.
Old School Style with New School Power
The Wolf Warrior is not all about speed and power alone, the design looks absolutely stunning. It gives you a "low rider" kind of vibe with its "Harley Davidson" look. This electric scooter can do everything with ease. The Wolf Warrior 11 is easily one of the best electric scooters out there.
Specifications
The Dualtron Ultra showcases style, speed, and range. With its durability, it is one of the best electric scooters for any type of use. This electric scooter can double as a commuter, as well as an off-road beast. With its extended range, you are sure to have an adventure with the fantastic Dualtron Ultra electric scooter.
Power, Range, Speed
The max speed of the Dualtron Ultra is impressive. It can go up to 50 miles per hour with the help of its two 2700-watt motors. However, the most notable ability of this electric scooter is the range. The Dualtron Ultra can reach a whopping 80-mile distance on a single charge. If you are using this electric scooter dor short commutes, you will not even have to charge it every day. 
Dualtron Ultra-FAST Charging
Take note, that it does not take a long time to charge its batteries. You can get a full charge for as low as 4.5 hours. This is pretty impressive, especially for the significant distance this electric scooter can reach. 
The Dualtron Ultra may be a little heavy, but the added weight made the electric scooter more stable. This electric scooter is such a pleasure to ride, especially for recreational use and off-road trail riding. However, if you want to use this scooter for commuting, you should probably pick a lighter alternative.
Specifications
This off road 4 wheel scooter is not your average ride. It may look like a quad, but this vehicle still falls under the electric scooter category. Although not as fast as other smaller models, it excels in ride quality and stability. 
Power, Range, Speed
The EZRaider LW is equipped with dual 1200-watt motors. Even if this electric scooter is heavy as it is, the power of the motor can still go as fast as 30 miles per hour and reach a 31-mile distance. The LW is part of a collection of 4 wheel electric scooters for adults, and you can check their website (2) to check their higher-end models with more power. 
Stability, Literally an All-terrain Vehicle 
The EZRaider is an innovative electric scooter that is equipped with 4 massive 19.6-inch tires that are virtually puncture-proof. This all terrain 4 wheel electric scooter also has low susceptibility to mechanical wear, which means it does not require a lot of maintenance. It is extremely heavy-duty and it can ride through literally any terrain such as sand, mud, rocky terrain, steep mountains, and snow. 
Of course, just like any other product, there are some downsides. Ride comfort comes with a price. The EZRaider is super heavy, super expensive, and it is not as portable as other models. The EZRaider is explicitly made for recreational use and it does a great job.
Specifications
Electric Scooter Buyer's Guide: How to Choose the Right All-Terrain Scooter for you and your Kids
Electric scooters do not come cheap. It is best for consumers to analyze the specifications carefully before deciding on what kind of off road electric scooter they should purchase. If you are not sure which of the brands listed above is the right one for you, we prepared a detailed buyer's guide to help you decide. 
The list includes important aspects and specifications to consider when searching for the right fit for you. Just because a scooter is claimed to be the best among others, does not mean it is the best for everyone. With that being said, let us dive into these important factors that you need to consider:
Power and Speed
In order for an electric scooter to ride through rough road terrains and inclines, it needs to have sufficient power. The power of an electric scooter's motor is measured in watts. A 1000-watt electric scooter is sufficient enough to reach moderate speeds. However, heavy adults will need to find an electric scooter with more power. There are some exceptions, however, like the Q1 Hummer. It is equipped with an 800-watt motor, but it still has a high load capacity perfect for heavy adults.
An all terrain scooter for a young kid or young teen with little riding experience is different. Make sure you select a scooter that does not go faster than 15 miles per hour. With your consent, you can choose a faster scooter, just make sure the size and weight are appropriate for a kid to handle. 
Range and Battery
Choosing the right amount of range and battery power is essential for an off road electric scooter. Unlike a commuter scooter, an electric scooter that you plan on using for off-road and recreational purposes need a strong battery that can last throughout a riding session. Take note that a powerful motor will need sufficient battery life for it to work for a certain period.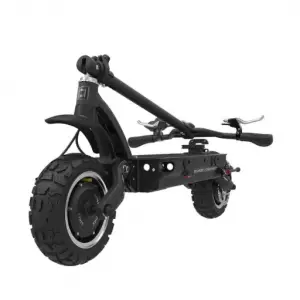 Tires and Braking System
An electric scooter (1) that will be used for off-road adventures needs to be equipped with the appropriate off road scooter tires. Anything above 8 inches will be enough to ride through rough roads, but the best materials for all terrain scooters are pneumatic or solid air-filled tires. Some 4 wheel offroad electric scooters like the EZRaider LW are equipped with massive tires, which makes for a comfortable ride. 
Since you will be applying a lot of brakes when going through tough trails, you will need a scooter with a reliable braking system. You will come across hydraulic or mechanical brakes, which are both good for all-terrain riding. 
Construction Quality
The build quality of an off-road scooter is vital. These will go through a lot of use and abuse within their life span, so make sure you choose something that is sturdy enough to take the wear and tear. All-terrain electric scooters are usually heavier than commuter scooters because of heavy-duty use. You will come across some scooters that have parts you can replace easily, and some that are virtually maintenance-free. Choose an electric scooter that is constructed and built for the way you will be riding it. 
Safety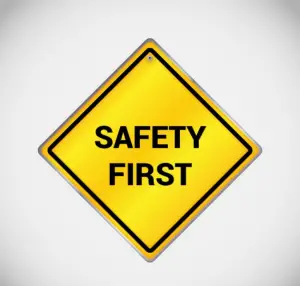 A fast scooter that can give you the speed you want is cool and all, but safety is always one of the top priorities. Make sure you select a scooter with safety features, such as safe braking systems, headlights, rear lights, and with the right speed appropriate for your skill level. 
For extra safety, make sure you do your part and learn how to ride safely and buy all the necessary safety equipment, such as helmets and pads. 
Price
The last factor to consider is the price of the electric scooter. If money is not an issue for you, you have the freedom to choose the best off road electric scooter that will fit your riding wants and needs. On the other hand, if you are on a tight budget, make sure that your decision will not be based on the price alone. If you are a little short on budget, some scooter companies offer layaway, or you can always save up to get the electric scooter you want. 
References
zippyelectrics.com may earn commissions when you purchase items through links to external source such as Amazon. Read our affiliate disclosure here.