8 Best Small (Mini) Electric Skateboard 2023: Top Picks & Reviews
Electric skateboards are useful machines that people can use as an alternative way of transportation. Whether you need a way to get to work or to navigate your way through campus, you will find the right board for any purpose. 
Electric skateboards come in all shapes and sizes. Longer boards are much more stable when riding fast, but they are quite bulky. Fortunately, there are smaller options such as the ones on the list. Discover the best small electric skateboard from this list of mini reviews. We will look into their defining features to help you decide which of these mini electric skateboards are best for you.
All of the skateboards on the list are curated and hand-picked depending on your needs. These mini boards are all excellent choices that have their own strengths and weaknesses, so we will include a detailed buyer's guide at the end of the list to help you narrow down your decision.
Compare Best Mini Electric Skateboard
Rank
Products
Feature
Website
Best Overall
✔ Cool shape & design
✔ With forged super carve trucks
✔ With Orangatang Cagumas wheels
Best High-End Option
✔ You can take it on flights
✔ Equipped with forged trucks
✔ Fast charging time
Best Cheap/ Budget Option
✔ Lightweight
✔ Compact
✔ Includes carry handles
Fastest Mini Electric Skateboard
✔ Battery life LED indicator
✔ Equipped with ceramic bearings
✔ Impressive speed and range
Best Range
✔ Runs at fast speeds
✔ Impressive range
✔ Stylish and durable
Best for Beginners
✔ Ultra-lightweight
✔ Durable
✔ Portable
Best for Kids
✔ Light and portable
✔ 4 ride modes
✔ Fantastic speed and range
Best in Speed
✔ High weight capacity
✔ Ultra-lightweight
✔ Decent speed and range
8 Best Mini Electric Skateboard in 2021
The Evolve Stoke is the smallest board on Evolve's line of excellent electric skateboard products. Because of its quality build, aesthetic, and performance, we ruled Stoke as the best mini electric skateboard.
Power, Speed, and Range
There are several reasons why this board is the best of the best, and one of them is this board's power. For a mini electric board, the Evolve stoke boasts a significant amount of power. It is equipped with not one, but two 1500-watt motors. It can reach a max speed of 22 to 24 miles per hour, and reach a 10-mile distance on a single charge. This board has enough power to comfortably climb hills at a 30% grade, and carry a max load of 220 lbs. In terms of power this small electric skateboard gets an A+!
Forged Trucks + Branded Wheels = Excellent Ride Quality
If you were impressed by the power of this mini electric board, you will be more amazed by the choice of components equipped on the Evolve Stoke. It is equipped with forged super carve trucks with dual kingpins. These trucks provide the rider with an exemplary ride. Turning and carving never felt this good, and you would not find the same ride quality on any small or even longer boards.
The Evolve Stoke is also equipped with Orangatang wheels, which is a well-known brand among downhill longboarders. It is also equipped with a surf-style kicktail with a foam pad for an authentic surf feel and aesthetic. Plus, you can bring this board anywhere as it is safe to bring on flights.
Specifications
If you are looking for a classy electric shortboard with a durable build and exceptional performance, look no further. The Boosted Mini S is one of the best mini electric skateboards you can find on the market. Boosted Boards are known for making high-quality electric skateboards and this board is no exception.
Power, Speed, and Range
In terms of speed and power, the Boosted Mini S does not disappoint. With its 1000-watt motor, this board can reach a max speed of 18 miles per hour. It can comfortably climb steep hills and carry riders that weigh up to 220 lbs. It can reach a maximum distance of 7 miles, which is not that impressive. However, the fast charging makes up for the poor distance.
Functional Kicktail, Sleek Design, Quality Build
Boosted Boards did a fantastic job with the design of this board. You can tell how they paid attention to every detail. The Mini S was made to last and withstand everyday use. The ride quality is what you pay for when buying a Boosted Board, and everything about the board is worth the price.
Specifications
3. Swagtron Swagboard NG-1
If you are looking for a good mini electric skateboard, but don't want to spend much, the Swagtron NG-1 is the best affordable option. Compared to the first two options above, the Swagtron NG-1 may lack in some areas such as speed and extra features, but it is one of the best choices in its price range.
Power, Speed, and Range
The Swagtron NG-1 can run at decent speeds. Reaching a max speed of 11 miles per hour and a distance of 10 miles on a single charge is not bad at all. This budget mini can compete with some of the mid-range electric boards in terms of specs.
Portable, Unique Design, Suitable for Kids and Beginners
The best thing about the Swagboard NG-1 is its unique shape. It is a mini electric board that sports an interesting directional shape. It is even equipped with two carry handles on both sides for maximum portability. The Swagtron NG-1 is not too fast for kids and beginners, but not too sluggish for people who are looking for a thrilling ride.
Specifications
The Ownboard KT is a mini electric skateboard that can go really fast. If you are looking for a small board that can ride faster than most longboards, the Ownboard KT is the electric skateboard that you are looking for.
Power, Speed, and Range
This electric board is equipped with two 250-watt motors. It may not be much compared to other high-end boards, but this small board can reach a max speed of 25 miles per hour on flat terrain. For a board in this price range, the Ownboard KT can really go the distance with its maximum range of 12 miles. Upon purchasing this board, you can choose between different batteries. For an additional price you can choose to upgrade the battery and increase the max range up to 19 miles on a single charge.
Sleek Design, Functional Kicktail, Easy to Use
This electric skateboard has a proficient electric system that is easy to use. The acceleration and braking aspects are very predictable, making it an excellent choice for first-time and pros alike. It also has a fully functional kicktail that you can use to float through speed bumps and any other obstacles on the road. Aside from its impressive specs, the best thing about this board is its price. You will never find a cheaper board with the same specs as the OWnboard KT.
Specifications
The Boosted Mini X is another excellent choice. It boasts a ninja-like aesthetic, but the best thing about it is its overall performance. Aside from its sleek and elegant design, this board has excellent speed, range, and ride quality.
Power, Speed, and Range
The Boosted Mini X is the upgraded version of the Mini S. It is equipped with the same motor, but they added extra battery power to significantly improve the range. From 18 miles per hour, the Mini X can now reach up to 20 miles per hour. The range of the Boosted Mini X is now twice as much, maxing out at a total distance of 14 miles on a single charge. Other mini electric boards have a higher advertised range, but the Boosted X's 14-mile distance is more accurate.
Sleek Design, Functional Kicktail, Excellent Overall Performance
Overall, the Boosted Mini X exceeds all expectations in almost every aspect. From the well-detailed design to ride quality, this board proves to be superior to every other competitor. Boosted Boards have a reputation for creating expensive boards, but they seem to be totally worth buying if performance is important to you.
Specifications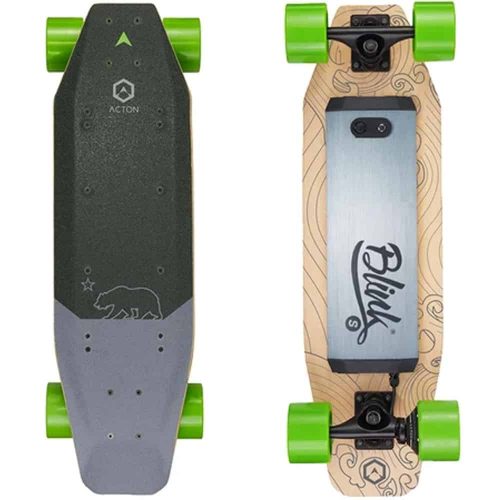 Mini electric skateboards may be more challenging to ride, especially for beginners. The deck is too small, which makes it more difficult for the rider to balance, even with skateboard riding experience. Good thing there is a board like the Acton Blink S-R. it may be a shortboard, but it is wide enough for a more stable ride.
Power, Speed, and Range
The Acton Blink S-R is a well-rounded mini electric skateboard. It is equipped with a capable 500-watt motor and it runs at speeds up to 15 miles per hour. The range is pretty decent. For an affordable board option, a 7-mile distance is more than you can ask for. Plus, it only takes less than one hour to get a full battery charge from zero percent.
Ultra-Lightweight, Old-school Design
One of the most notable features of this board is its ultra-lightweight construction. It features an old-school skateboard design with a functional kicktail for a more traditional skateboard experience. The Acton Blink S-R is an excellent choice for both beginners and riders with experience.
Specifications
The Hiboy S11 is an affordable electric skateboard that is very convenient for getting around campus or just cruising through the neighborhood. Because of its ultra-lightweight design and fun size, it is the best choice for kids. It is a fantastic gift for your kids, as they surely will have a blast riding this mini electric board.
Power, Speed, and Range
The Hiboy S11 is equipped with a 350-watt motor, and it can reach decent speeds up to 12 miles per hour. IT may be slow compared to other boards, but kids will still find it exhilarating. The acceleration and braking are smooth, providing a safe ride for kids. The range may not be that impressive, but it is not exactly a bad thing. It can limit the kid's playtime and be home in time for lunch or family dinner.
4 Ride Modes and 4 Braking Modes 
The Hiboy S11 has 4 different riding modes. Each riding mode limits the speed and controls the power of acceleration. You can switch it to a more gradual acceleration for a safer ride. The same goes for braking. Each mode controls the intensity of the brakes, allowing you to choose a safer braking mode for your kids.
Specifications
Just because Mini Electric Skateboards are small, does not mean they cannot carry heavier riders. People on the heavy side there is no need to worry because you can also enjoy riding mini boards. The Blizart Mini Flash may be a small board but is more powerful than how it looks. It is the best mini electric skateboard for heavy riders.
Power, Speed, and Range
The Blitzart Mini Flash's 250-watt motor is powerful enough to handle a maximum weight load of up to 270 lbs. The board's max speed will top out at 12 miles per hour, and it can reach an 8-mile distance on a single charge. For a board as affordable as the Mini Flash, the specs are quite impressive.
Great Value, Excellent Portability, Smooth Ride
This mini electric board is an excellent choice for commuting. First of all, the board is so small, that you won't have trouble carrying it around wherever you go. Functional kick tails work great for smaller boards. Because smaller boards are equipped with smaller wheels, you might find it hard to ride through uneven terrain. It's a good thing that the Mini Flash has a functional kicktail for floating over road imperfections for a smoother ride. The Blitzart Mini Flash is an excellent mini electric board that is totally worth the price.
Specifications
Electric Skateboard Buyer's Guide: How to Choose the Best Mini Electric Skateboard
Choosing the best mini electric skateboard for you can be overwhelming, but we will show you the important factors to consider in this buying guide. Having a mini electric board can be more convenient in terms of portability. Plus, mini boards can be significantly cheaper than their longboard counterparts. Although longboards are much easier to ride because of the wide surface, mini skateboards are less bulky and they accelerate much faster.
Most people prefer mini skateboards for commuting, especially if they have to ride the subway or busses in between their commute. Small electric skateboards are much easier to stow away in overhead bins. Because the battery is not as big as that of an electric longboard, shortboards can be brought on domestic and international flights depending on the airline's policy.
Here are some of the important factors you should look into before choosing a mini electric skateboard:
Purpose
Consider why you need the skateboard. If you are looking for something you can actually ride to get to work and back, consider getting a board with enough range and ride comfort. Most boards listed above are excellent choices for just about any type of use, but they all have their strengths and weaknesses. Whether you need a board to get around town or for a new hobby, here are the things you may want to consider:
If you are looking for a board as an alternative way of transportation, make sure you determine the routes you will ride through. Are the roads smooth? Do they have steep inclines? If so, make sure you get a board with higher power output.  You also may want to consider your weight and choose a board that has a suitable weight capacity.
If you want e-riding to be your new hobby, get a board that suits your skill level. Some boards are too fast or too narrow for beginners. When choosing a board for recreational purposes, make sure it is a board you can comfortably learn on and has different riding modes where the speed can be limited. 
Speed and Power Output
Some of the fastest electric mini skateboards can go as fast as 26 miles per hour. Choosing the right board with the right speed is something you need to consider. If you like to go fast, choose the fastest board. If you are a beginner trying to learn the ropes, make sure you get a skateboard with a suitable speed, depending on your skill level. 
Some electric skateboards can go really fast but have smooth acceleration and braking. Make sure you purchase an electric skateboard that is less jerky and has a more refined ride. You would not have to worry about the boards on the list, because all of them have excellent electronic systems that provide smooth controls.
Range and Battery
The range and battery power is another important aspect of choosing a boar, especially if you need one for commuting. Mini skateboards may not have as much range as some of the high-end longboards. Since they have a smaller frame, a bigger battery just wouldn't fit.
When choosing a mini skateboard for commuting, make sure you get one with a battery with a higher Ah or ampere-hours (1). If your workplace is around 3 miles away, make sure you get a board that has a max range of 10 miles and up. The maximum distance is not always accurate as you will have to consider certain factors like speed, terrain, and rider weight. Make sure that you get one with twice the distance of your commute just to be safe. 
Design and Construction Quality
Mini electric skateboards come in all shapes and sizes. Some are too narrow, while some are too wide. Make sure you get one where that feels right for the size of your feet so that it does not feel awkward when you ride.
Most mini electric boards are built with kick tails, they are not only used for popping ollies, but they are very useful for riding through road imperfections and small cracks on the sidewalk. You can also use the kick tail for pivoting if the turn is too sharp. 
In terms of construction, most shortboards are built with high-quality maple. Because they are shorter, they are less prone to splitting in half. The only thing you do have to watch out for is the quality of the electric components.
Safety
While skateboards are considered to be an extreme sport, some electric boards are safer than others. Make sure you choose a board with safe components. Some boards are equipped with safety shields and cases for the battery to prevent overheating. If you will be riding at night, make sure you purchase a board with built-in or removable LED lights to illuminate your way. 
When riding an eclectic skateboard to work or anywhere else, it is a good idea to wear a helmet.
Air Travel
If you will be visiting different cities or different countries, consider buying a  mini electric skateboard that is safe for air travel (2). 
Price
Lastly, consider how much you are willing to spend. Some of the best mini electric skateboards will cost a significant amount of money, but you can find an alternative that is within your budget. An expensive skateboard does not always mean it is better, you may find what you are looking for on cheap or mid-range boards. If you are a little short on money to purchase the boards you really want it is better to save up instead of buying a board that you would end up regretting. 
References
zippyelectrics.com may earn commissions when you purchase items through links to external source such as Amazon. Read our affiliate disclosure here.