UScooters Booster V Electric Scooter Review 2023: Best Portable …
Electric mobility is the future of transportation, and more companies are creating electric rides as an alternative to riding cars, especially in urban downtowns and congested cities. Climate change is a big issue that the world is trying to address, and electric mobility might be one of the ideal solutions. 
In this article, we will be looking at the UScooters Booster V Electric Scooter, and we will see if it is capable of real-world applications. In a nutshell, the Booster V is a lightweight and portable electric scooter that is packed with a powerful motor and battery. 
It allows you to travel distances faster than walking, and easier than pedaling on a bike or pushing on a manual scooter. Plus, it is more convenient than riding a car, especially during rush-hour traffic. 
Is the UScooters Booster V Electric Scooter the best portable electric scooter on the market today? Let's take a more in-depth look into this highly-praised option in this Uscooters Booster V Electric Scooter Review. 
UScooters Booster V Electric Scooter Under the Microscope
The UScooters Booster V is one of the most popular electric scooters in and out of the country. It is popularly considered the best portable electric scooter because of its compact build. 
In this section of this Uscooter Booster review, we will dissect each part and aspect of this electric scooter. We will check what is under the hood, the build quality, the components, and the extra features, to see if this electric scooter is worth all the hype.
Speed and Power Output
Having a look at what's under the hood, this lightweight scooter may not look like it's something to boast about. It does pack some serious power, however. It is equipped with a 500-watt motor that enables riders to reach a maximum speed of 22 miles per hour. 
With the power it offers, it also easily climbs hills with a 10% grade at a 10mph average speed. However, if the rider exceeds the weight of 170 lbs, speed upon descent will decrease. 
The top speed might not be everyone's cup of tea, but because of its compact build and lightweight components, the Booster V electric scooter has excellent acceleration. It accelerates faster than most electric scooters in its price range, reaching 20 miles per hour in just 10 seconds.  
Range and Battery Performance
The speed is quite impressive on this electric scooter, but for casual commuters, the range is what matters most. The UScooters Booster V Electric Scooter is equipped with a 378-watt hour lithium-ion battery that enables riders to reach a maximum distance of 20 miles on a single charge. 
It is quite impressive because most compact and lightweight electric scooters are equipped with a smaller battery. However, by removing some extra features like speakers or Bluetooth app connectivity, the manufacturers were able to slip in a better battery without compromising the reasonable price. This does seem like a good trade-off, if you ask me. 
Of course, the range will depend on how you ride and how you squeeze the throttle. Plus, factors like the weight of the rider and the terrain will also affect the total distance you can haul on a single 3-hour battery charge. 
Design and Construction Quality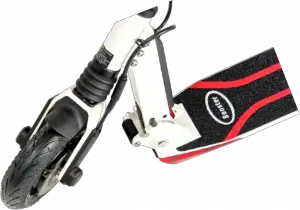 Aside from its excellent performance in terms of speed, range, and power. Another aspect that makes this electric scooter a reliable option is its design and construction quality. It may be compact and portable, but it has a good-sized deck that is wide enough for better balance and rider control. 
It also has the right amount of ground clearance, which is not too high to make it hard to balance, but not too low to get caught up with rocks and other road imperfections. The grip tape is also great for better traction, and it features a minimalistic design with a racecar line and the roman numeral "V."
Materials:
The manufacturers built this electric scooter with durability in mind. They made it with high-quality and lightweight aluminum alloy materials, allowing it to withstand daily use. 
This electric scooter is designed to run for thousands of miles over the course of years. The ride quality might be a little bit questionable, but they kept their focus on building a sturdy frame and durable parts, including cables and wires that are neatly and strategically placed for longevity. 
Handlebar: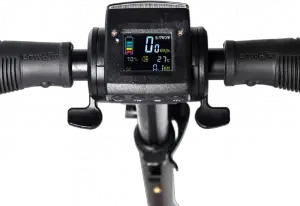 The handlebar is one of the first things you will notice. It is very clean, and there are no exposed wires. The central console is also very useful, and the controls are easy to master. It uses a thumb accelerator and a thumb brake that has excellent speed control, meaning you won't over accelerate if you accidentally pushed on the throttle too hard. 
In addition, the handlebars are foldable, which makes the e-scooter easier to carry around when not in use.
Foldable:
As one of the best portable e-scooters in the market, its three-point folding system is probably one of its greatest strengths. Because of this feature, the Booster V makes a great choice for congested cities, allowing you to quickly fold and unfold your scooter in seconds without needing too much space. 
The collapsing stem and the foldable handlebars make it very compact and easy to carry when not in action. It also comes with a nylon carrying handle, enabling you to carry it with little effort using only one hand. 
Tires and Braking System
Although everything seems to be on-point with this option, the tire choice is a little disappointing. Airless tires might be longer-lasting than pneumatic tires, but they can decrease the ride quality. Even with the suspension system, this electric scooter had so much more potential in terms of ride quality if they were equipped with pneumatic tires. 
On the bright side, because the tires are airless, it is virtually maintenance-free, and you don't have to worry about getting a flat tire due to punctures. 
Braking, on the other hand, is quite good. It is not the best, but it does work. It is also regenerative, meaning you can save and recharge the battery a little anytime you hit the brakes. 
Safety
The UScooters Booster V is equipped with standard safety features such as headlights, taillights, excellent grip, a horn, and smooth brakes. However, it could still use better headlights and improve your visuals at night. The horn works when alerting pedestrians and other e-riders and cyclists, but it does not seem to alert car drivers because it is not loud enough. 
Bluetooth
Unfortunately, the Booster V electric scooter is not equipped with Bluetooth functionality. 
Brand and Customer Service
UScooters is a brand that is all about the future of electric mobility. They build their products with one thing in mind, which is to reduce the carbon footprint with electric rides that produce zero emissions. 
Celebrities like Justin Bieber and Jamie Foxx choose UScooters electric scooters when riding in the busy streets of downtown Los Angeles, and that says a lot about their brand. 
Uscooters' warranty (1)  policy is pretty comprehensive as well. The warranty for parts lasts for one year or 1500 miles on the electric scooter (whichever comes first). They also included a 6-month warranty for the battery. You can also return the electric scooter within 10 days after receiving the unit if you are not satisfied. Just like any other company, it will include a 10% restocking fee for the broken packaging and other scratches and blemishes on the electric scooter. 
Their offices are located in El Paso, TX, and if you want to reach them, they have a very responsive customer service team. You can contact them through their website's contact page, (2) or you can send them an email at [email protected]. 
Downsides
It is equipped with airless tires which make the ride quality a little off

It does not have Bluetooth connectivity

The suspension could have been better if equipped with pneumatic tires
Who Should Buy the UScooters Booster V Electric Scooter?
This portable electric scooter is an excellent choice for people looking for a capable e-scooter that they can use in the real world. The speed and range may be on the average side, but it is still good enough for commuting short distances to work or to school. 
The UScooters Booster V Electric Scooter will make an excellent e-scooter for first-time riders and individuals who are looking for something less bulky and lightweight. A portable electric scooter with this level of performance is quite hard to find, and if that is what you are into, then this e-scooter might be your best bet. 
Final Verdict
In this UScooter Booster Electric V Scooter Review, we took an in-depth look at everything that this electric scooter has to offer. There might be a couple of drawbacks, but almost everything about this electric scooter is worth the price. It is well-designed and it outperforms most e-scooters in its price range. Most of all, it is lightweight and portable, which is an important characteristic for most commuters.
Because the strengths outweigh the cons with the UScooter Booster V, we gave it an overall score of 4.25 out of 5 on our charts. It is one of the best portable scooter options that has the speed and range you need for commuting and getting around town. 
UScooters Booster V Electric Scooter Video Review
UScooters Booster V Specifications

Top Speed
22 MPH

Motor
500 watts

Range
20 miles

Battery
378 wh

Charge Time
3 hours

Max Load
287 LBS

Weight
24 LBS

Wheel Size
7.5 inches

Tires
Airless Tires

Brake System
Regenerative foot brake

Warranty
1 year or 1500 miles (whichever comes first)

Price
$$$
FAQs
References
zippyelectrics.com may earn commissions when you purchase items through links to external source such as Amazon. Read our affiliate disclosure here.