Swagtron T580 Hoverboard Review 2023: Best Self Balancing Scooter?
An excellent hoverboard self-balancing scooter should have tons of features and a smooth ride with the right balance of speed and range. This hoverboard could count as the best one in the market. However, one thing that most buyers often overlook is its main purpose–transportation.
Aside from that, a hoverboard is popular because it makes commuting a lot more fun. In fact, both kids and adults can enjoy a good hoverboard.
When it comes to fun and functionality, the Swagtron T580 has the excellent combination. It comes with a sleek design, is fully-loaded with features, and can run at a decent speed. Besides, it is friendly to the pocket, which makes it the choice of so many consumers.
So, is the Swagtron T580 hoverboard the best smart-balancing scooter you can buy in its price range?
Let's find out in this in-depth and detailed Swagtron T580 hoverboard review.
Speed and Power output
The Swagtron T580 is equipped with a 400-watt motor that can reach a top speed of 7.5 miles an hour. Some of the higher-end hoverboards can go 10 to 12 miles an hour, but considering the Swagtron T580's price range, 7.5 miles per hour is as good as it gets.
Because it can run at safer speeds, this hoverboard is a great choice for kids. You can also switch between different ride modes, so kids and beginners can start learning slow. You can use the smartphone app to change the modes that include a learning and standard ride mode. The learning ride mode gives beginners an advantage to work on their skills before riding at top speed. 
Other hoverboards within the Swagtron T580's price range can only reach 5 to 7 miles per hour, making the T580 taking the win in terms of speed. 
Range and Battery Performance
The T580 hoverboard can reach a distance of up to 8 miles on a single charge, which is quite impressive for a board in this price range. Compared to other products like the Razor Hovertrax 2.0, the Swagtron T580 doubles up the competition in terms of range. Because of the improved range, kids can have longer play times and adults can ride further commutes. 
Additionally, the Swagtron T580 battery only takes a mere 2 hours to charge it from zero to 100%. 
The battery is reinforced with multi-layered protection through its SentrySheild and Smart Battery management technology. This means that the battery went through a series of tests to ensure the safety of use. It protects the battery from overheating, short-circuiting, and other potential battery hazards. 
Design & Construction Quality
The Swagtron T580 is built with a sleek design. It comes in a black, blue, or red design that contributes to its elegant look. At first glance, you would mistake the Swagtron T580 for a high-end hoverboard because of its remarkable appearance. It is equipped with cool LED lights and built with high-grade lightweight materials that were built to withstand the wear of daily use. 
The T580 only weighs 20 lbs, which is lighter compared to other models. The weight gives it an advantage when it comes to acceleration. Also, it is perfect for people who are always on the move because of its portability.
Board:
The board itself is equipped with non-slip foot pads to secure the rider's feet in position. This safety feature allows the rider to have complete control over the hoverboard so they can spin, go forward, and reverse with absolute ease. It is also geared with a LED light to indicate battery life. The footbed is just the right size for kids and adults alike.
Because of the heavy-duty yet lightweight materials used to build the deck of this board, it can carry riders up to 220 lbs. The weight of the rider can affect the top speed and range, but only by a little margin.  
Assembly:
The Swagtron T580 is neatly packaged and arrives pre-assembled. Right out of the box, it comes with a pre-charge so the user can give it a test run and pair the hoverboard with their smartphones. To make sure if the gyroscope is calibrated, read the manual first. 
Additional Features:
The Swagtron T580 can be paired with your smartphone. Download the Swagtron mobile app to unlock the different ride modes and display some useful diagnostics such as the remaining battery life, track the speed, and other settings. 
The Bluetooth connectivity is superb, it is easy to pair in a matter of seconds. Some of the competitors in its price range fail to improve the companion app, but the Swagtron app is seamless and works like a charm. There may be a few bugs, but not that many to ruin the app experience.
Tires & Braking System
The Swagtron is equipped with 6.5-inch wheels that are great for riding around urban areas. It is not ideal for off-road riding, but it runs smoothly on the sidewalk and on the road. The tires have a decent width, giving it a liquid-smooth ride on standard surfaces that you encounter on a daily basis. 
Safety
The Swagtron T580 hoverboard is all about safety. It is UL 2272 certified (1), meaning all electrical components are completely safe. This hoverboard passed a series of rigorous tests before the manufacturers ship it out to the customers.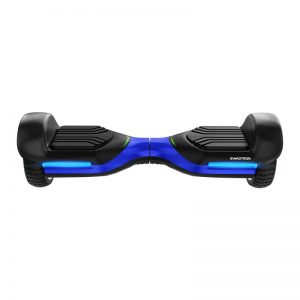 The board can ride at safe speeds, making it safe for children and beginners to use. With the app, you can switch to the learning mode before unlocking the fast mode. 
The board also comes with bright LEDs so the rider can be seen by drivers and people on the road, especially in low-light conditions. The brightness also helps the riders see where they are going when riding at night.
Brand & Customer Service
Swagtron is known for developing some of the best electric rides from scooters to skateboards. Part of their mission is mobility, which is why most of their products have range and speed built in a portable package such as the Swagtron T580. 
They aim to become one of the leading brands when it comes to electric rides, which is why they dedicate their time and effort to create these amazing e-rides.  They also make them more affordable, so that everyone can experience them and have a taste of what it feels. 
When you purchase one of their products, it takes 1 to 3 business days to process the order before it gets shipped out. As of now, Swagtron only ships its products within the United States. 
If a consumer is not satisfied with the product, they can return it within 30 days of purchase. Swagtron will be happy to repair or replace products with factory and manufacturing defects for free within the 12-month warranty period (2). However, any non-defective refunds will require a 30% restocking fee.
If you have any questions, suggestions, and concerns about their products, feel free to contact them by message through their website. (3) You can also send an email at [email protected].
Downsides
Not suitable for riders that weigh above 220 lbs.

Not for people who want a fast hoverboard

Limited terrain usage
Who Should Buy the Swagtron T580 Hoverboard?
The Swagtron T580 hoverboard is a versatile board that can be used for several purposes, such as riding around the block, riding around campus, or using it as an alternative way of commuting. It is highly affordable and is a perfect gift for loved ones and kids. Because of all its cool features such as Bluetooth speakers, lights, and other safety features, it is a product both kids and adults can enjoy.
Because of its lightweight design and ease of use, it is an excellent hoverboard for kids that weigh above 44 lbs and up. Kids wouldn't have any trouble using the Swagboard because it is easy to control. 
Due to its decent speed and impressive range, adults can also take advantage of this board by using it for their daily commute. It is faster than walking and more eco-friendly than driving a car.
We recommend this all-around hoverboard for anyone who wants an incredibly affordable hoverboard perfect for short daily commutes, travelling around the campus, and simply having fun around the neighborhood.
Final Verdict
Because of the Swagtron T580's overall versatility, we gave it a 4.2 out of 5 on our score chart. It may have some downsides, but the advantages rule all the bad ones out. It is a safe board for anyone to enjoy, with its rich features and the right amount of power and range. Overall, it is ideal for the whole family.
For a board this affordable, the Swagtron T580 is equipped with all the features you need in a fun board in its price range. It is very well-rounded and has a little bit of everything. More importantly, the Swagtron T580 screams two things: portability and performance. 
Swagtron T580 Hoverboard Video Review
Swagtron T580 Specifications

Top Speed
7.5 MPH

Motor
400 watts

Range
8 miles

Battery
36 Volts

Charge Time
2 hours

Max Load
220 LBS

Weight
20 LBS

Wheel Size
6.5 inches

Tires
Air-filled Rugged Tires

Brake System
Electronic Braking

Warranty
30-day return policy with a 12-month warranty

Price
$
FAQs
References
zippyelectrics.com may earn commissions when you purchase items through links to external source such as Amazon. Read our affiliate disclosure here.