Boosted Mini X Electric Skateboard Review 2023: Best High End Board?
This electric skateboard gives the rider an exhilarating experience. Whether you use it for cruising through campus, getting around town, or completing your to-do list, the Boosted Board Mini X will make your daily commute easier, and more fun. 
Boosted Boards is making a name for themselves by creating a line of high-quality and high-end electric skateboards and scooters. The Boosted Mini X Electric Skateboard is one of their breakthrough cruisers that exceeds expectations in terms of style, power, and range. 
With all the exemplary features, can this mini electric skateboard with kicktail live up to the hype?
We are about to find out and spare you no details as we give you an in-depth Boosted Mini X Review. 
Speed and Power output
First off, let us dive into the speed and power the Boosted Board Mini X has to offer. For a miniature board, the Boosted Mini X runs at speeds up to 20 miles per hour. This is pretty fast top speed for a board this size.
While the speed may be fast for inexperienced riders, there is an option to change to one of the three riding modes. You can use the iOS and Android app to change the riding modes, or you can simply click the power button three times to cycle through each of the modes. 
This mini electric skateboard can take on hills as steep as 20% with ease. However, if you weigh more than 200 lbs, the speed may vary when climbing steep hills. Make sure you lean into the hill so you can assist your Boosted Board uphill. Considering the power of its belt driving system, It is still a reliable machine for doing your daily errands. 
On the contrary, going down hills feels great on this board. You do not have to worry about going over the speed you can manage. When you start to go too fast for your liking, you can simply pull back on the throttle to slow down at a comfortable pace without the feeling of resistance.
Range and Battery Performance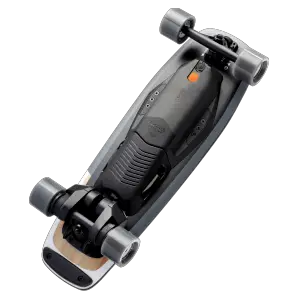 Right out the box, the Boosted Mini X Electric Skateboard comes with an almost full charge. This means you can enjoy the board instantly upon picking it up. In addition, the Boosted Mini X can reach a full charge in a span of 1 hour and 45 minutes. Considering the 14-mile range, this is pretty fast charging. 
The Boosted Board charging lights turn green or red to indicate it is done charging or is still charging, respectively.
Because of the slightly larger battery of the Boosted Mini X, you cannot take it with you on flights. If you want a similar board with a battery you can legally take on board a flight, you can opt for the Boosted Mini S. 
Design & Construction Quality
The overall design is sleek and functional. The exclusive Deep Dish concave shape will lock your feet in place, making it easier for you to confidently carve the streets with style. With the addition of the fully functional kicktail, you can maneuver through 90-degree turns with ease. 
The Boosted X Mini may be heavy, but that is because of the reinforced quality. This board was definitely built to last. It also includes a replaceable tail puck that will protect the tail when you pivot on tight spaces or when you try to do manuals or ollies. You can try to do ollies, but it would be very challenging, considering Boosted board Mini X weight.
At first glance, the Boosted Mini X looks very durable and sturdy. The details and the color scheme makes the board appealing for fans of minimalism. The board may look minimalistic, but it is a fully functional board with all the essential components to make the ride fast and smooth.
This board also features an iOS and Android app. Although there are not a lot of things you can do with this app. There may be other settings on the app, but it is most useful for adjusting the board's overall power. Right off the box, make sure you change the riding mode to beginner mode with the app if you have no experience with riding an electric skateboard. Once you get used to the board, you can kick it up a notch and enjoy the maximum speed of this Boosted Board.
Deck:
The 29.5- inch deck features a unique concave that secures your feet into place. The board's lightweight poplar core is wrapped in fiberglass, giving it a smooth and refined riding experience. The deck shape stays true to the traditional skateboard cruiser design. It has a directional design with all black grip tape covering most of the surface to keep your feet from slipping.
Wheels:
The wheels play a big role to deliver a smooth ride. The 80mm wheels are soft enough to handle road blemishes, but still firm enough to provide the grip riders need when turning. The wheels seem a little big for the 29.5-inch deck, but because of the wide trucks and wheel wells, you do not have to worry about experiencing wheel bite and falling off your board.
The wheels feel really smooth going through sidewalks and alleys. You will hardly feel any of the cracks. The rides are buttery smooth for the most part. However, you will still feel large potholes, so make sure you watch out for them on your next run.
Trucks:

The Boosted Mini X is equipped with forged reversed kingpin trucks. Forged trucks (1) are much more durable than the regular cast trucks. These trucks can withstand the harshness of the road conditions and the weight of the rider because, instead of using a cast to make a mold, the alloy is shaped from a solid piece. This process compresses aluminum concentrates that make the trucks sturdier than standard casting. 
The trucks and bushings of the Boosted Board X Mini are very responsive. The equipped trucks feel really great under your feet. You can lean into turns and carve smoothly on sidewalks.
Remote Control:
The Boosted Mini X comes with an ergonomically designed Bluetooth remote control that allows you to control your speed with comfort and ease. The power switch is located at the bottom of the remote, next to the DC charging port. There are 5 LEDs to indicate the remaining charge.
The remote control is in a pistol format with an activator trigger for the forefinger. It also has a speed and reverse slider that you control with your thumb. The remote control has an excellent durable design that feels great in your hand. The only downside of this remote is that it charges via mini USB instead of micro. Mini UBS technology is quite dated nowadays which makes us wonder why they chose it for the charging port.
It responds with the board in real-time with no latency felt. This makes you more confident in accelerating and braking through the remote. 
Braking System
The Boosted Board Mini X is equipped with a smooth regenerative braking technology. Basically, the regenerative resistance slows the board down at a smooth velocity. Using the speed slider will bring it down to a comfortable speed before coming to a full stop. 
Safety
This electric skateboard might go at fast speeds for its size, but it does not rush into accelerating. It builds up speed at a safe pace so you do not feel like you are losing control. The speed slider on the remote lets you control your desired top speed. No need to worry about going too fast. 
The deep-dish concave also makes the board a lot safer for keeping your foot in place. Make sure you get used to the board's shape and controls before trying to go faster than you can handle.  
Brand & Customer Service
Boosted (2) was started by a couple of grad students trying to find an easier way to get around their campus. Ever since then, Boosted continues to grow and become recognized worldwide for innovating the means of transportation. It continually tries to create high-quality products to provide everyone's daily commute with the necessary boost. 
If you are not satisfied with the product, you can return it within 30 days (3), but only if you purchased the product through the official Boosted website. However, all shipping fees are not included with the refund, and you will need to pay a $100 restocking fee for each returned Boosted Board. The product must not be damaged or abused.
All Boosted products also come with a 12-month warranty whether you have purchased the product through the official website or authorized retailer. The warranty is limited to factory defects 12 months from the date of purchase or the date of shipment.
For more questions and concerns about Boosted products, you can contact them through their official website at https://support.boostedboards.com/hc/en-us/requests/new. 
Downsides
A little too heavy for its size

Needs belt replacement after a certain amount of wear 
Who Should you Buy the Boosted Mini X Electric Skateboard?
The Boosted Mini X is perfect for people who need a power assist on short commutes around town to do complete their errands with ease. It is also excellent for people who want to get around campus without breaking a sweat. With its portability and reliability, you will never be late for class again. 
The manufacturers recommend this board for people ages 16 and up. It is not very suitable for kids and young teens because this board can go really fast. The Power of the Boosted Mini X can support adults of any weight but the Boosted Board weight limit is set at 250 lbs.
Final Verdict
Design, power, and range, these are the three aspects where the Boosted Mini X exceeded all our expectations. Not to mention its durability, the Boosted Mini X is surely worth its price tag. Scoring a 4.7 out 5 on our score chart, The Boosted Mini X is a board that you can truly rely on for your short commuting needs.
Boosted Mini X Electric Skateboard Video Review
Boosted Mini S Electric Skateboard Specifications

Top Speed
20 MPH

Deck Length
29.5 Inches

Motor
1000 watts

Range
14 Miles

Battery
199-watt extended-range battery

Charge Time
1 hour and 45 minutes

Max Load
250 LBS

Weight
17 LBS

Wheel Size
80mm

Trucks
190mm forged precision trucks

Brake System
Regenerative brake system

Warranty
12-month warranty with a 30-day guarantee

Price
$$
FAQs
References
zippyelectrics.com may earn commissions when you purchase items through links to external source such as Amazon. Read our affiliate disclosure here.