Apollo City Electric Scooter Review 2023: Best for Commuting
Apollo Scooters never fail to astound us, and The Apollo City is another one of its excellent products. It is an excellent choice for beginners, commuters, leisure riders, and more. 
For starters, the e-scooter offers an extremely comfortable ride. This is thanks to the spacious deck and excellent suspension. It looks very sleek, and it can go really fast and cover enough range to be qualified as an above-average electric scooter for commuters! 
In this Apollo City electric scooter review, we will strip it down and look more into what this incredible electric scooter has to offer or not offer. Let's dive straight in!
Speed and Power output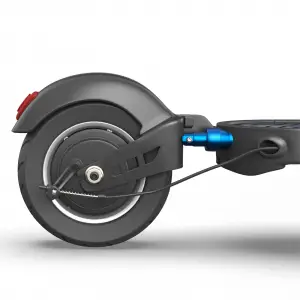 Source: Apollo Scooters
This Apollo City electric scooter has enough speed to get you where you want to go fast. It can reach a top speed of around 25 miles per hour, which is a pretty exhilarating ride for something on two wheels. 
With a 600W brushless electric motor that delivers 800W of peak power, the Apollo not only accelerates quickly but also climbs hills without breaking a sweat. 
The Apollo City was also designed to handle riders up 260 pounds, which is at least 40 pounds greater than the majority of its rivals within this price category and, if I might add, it can handle the max weight capacity without compromising too much on performance. 
This scooter also has quick acceleration, reaching a top speed of 15 miles per hour in only 4.1 seconds. Although there are other scooters with faster acceleration, you'll be hard-pressed to find one for this price. Apollo City can easily accommodate steep hills of 15%, so no need to limit yourself on flat terrains. 
Range and Battery Performance 
The 48V 13.2aH battery, which is fairly common for scooters at this price, provides an equally amazing selection. These batteries stand out since they use Dynavolt cells that are among the most advanced electric scooter batteries. Dynavolt lithium-ion offers excellent efficiency at a low cost. An internal battery control device tunes the batteries, making them as stable and secure as possible.
If you travel in eco mode, the Apollo City's battery can offer you a range of 28 miles per charge. You should assume a more reasonable range of 22 miles if you ride in normal riding modes. Charging the scooter takes 8 hours using the standard charger, but you can cut the charging time in half if you opt for the fast charger. 
Better still, the battery has a clever power management feature that optimizes total battery capacity while still protecting you from typical battery faults like a short circuit, over-voltage safety, and under-voltage security.
Design & Construction Quality
Source: Apollo Scooters
The Apollo City's aluminum architecture supports resilience in general, and you should anticipate it to endure drops and impacts without losing its structural integrity. More specifically, the scooter's aluminum structure increases reliability, meaning you won't have to worry about it falling down too fast.
Materials
All in all, the Apollo scooter has a decent construction standard. Most of its components are made of forged aluminum, including the stem, handlebar, and forks.
Handlebar
The handlebar of the Apollo City electric scooter is one of its best features because of its foldability. Each side of the handlebar is equipped with two brake levers, one to control the front wheel and the other the rear wheel. A tiny throttle lever is located on the right side of the handlebar next to a round screen that displays the speed, distance traveled, and battery life, among others. A relatively small bicycle bell is mounted on the left side of the handlebar.
Foldable
Riders can comfortably load, unpack, and put their scooter anywhere they go, thanks to the completely folding frame. This feature enhances its utility as a commuting electric scooter. This electric scooter has three folding mechanisms that can be folded into a small bundle measuring 42 inches long, 7.87 inches wide, and 14.17 inches tall. And though completely extended, the scooter remains a spacious, full-sized electric scooter.
Assembly
The Apollo City electric scooter will be folded and almost completely installed when it arrives at your doorstep. You would first unfold the scooter by pressing the latch down and releasing the safety bar. You must then clip the safety bar into position by unfolding the stem of the scooter. To guarantee that the bar is correctly locked into position, press the stem a little harder. The handlebar folders could then be unscrewed, opened, and re-screwed into position. After adjusting the stem to the proper height, make sure it is firmly latched on the stem.
Tires & Braking System
Source: Apollo Scooters
The Apollo City is equipped with two 8.5-inch rubber tires. They're big enough to allow for smooth rolling while still preventing being caught in potholes. The big tires also improve overall stability, as well as handling and cornering efficiency. 
The most significant advantage of these tires is their potential to withstand rough surfaces, resulting in a smoother ride with fewer bumps and vibrations. Since they're air-filled, they assist with suspension and appear to self-stabilize. Another advantage of these tires is that they do well under damp conditions since the rubber is supple and has a better grip.
The City comes with three separate brake mechanisms, making it one of the safest electric scooters in its price range. Both the front disk brake and the rear drum brake work together to bring the scooter to a near-instant stop. The motor scooter, according to the manufacturer, has a fantastic stopping distance of just 10.1 meters. Aside from their output, both brakes have a straightforward operation and a comparatively smooth feel.
Safety
Rider wellbeing is crucial, as we all know, no matter where you are. This model, thankfully, has several features that help to ensure safety. Starting with the lighting, the Apollo City features bright LED front, back, and deck lighting, ensuring that you are noticed while remaining sleek. 
This is extremely important while riding in the dark; it allows you to see while simultaneously alerting roadside traffic to your presence. 
This scooter has an IP54 waterproof grade, indicating that it can withstand light rain. You can use it during the wet season without worries. The rating also indicates the scooter is highly resistant to dust spores. You won't have to think about the engine clogging up over time. 
Bluetooth
Unfortunately, there isn't an Apollo smartphone application for Bluetooth connectivity. However, according to their website, the "Ludicrous" edition comes with dedicated software and phone mount; even then, this is only compatible with iOS devices–I guess we have to wait for that model!
Brand & Customer Service
The Apollo Brand is one of the world's leading companies in the electric ride industry, and each year, they have been adding more excellent models to their line of already fantastic scooters. 
Apollo's Electric Scooters have longer warranty periods (1) and terms. The company fully understands the complications of riding a commuting electric scooter daily. The City is backed by Apollo's industry-leading two-year guarantee, which covers wear-and-tear components as well. 
The 12-month warranty provides a total of 24 months of coverage on every production failure and another 12-month warranty on replacements at cost. It is what the company refers to as "worry-free travel." Upon reading the reviews from Apollo's official page, they indeed deliver legendary customer support. 
Downsides
This electric scooter is not suitable for rough roads.
It doesn't have Bluetooth features.
Who Should Buy the  Apollo City Electric Scooter?
Even if you're a beginner or a pro rider, you should purchase this electric scooter made by Apollo because it has many cool features to offer. Not to mention, the triple braking system is the bomb. It is one of the safest electric scooters for commuters that is available in the market today.
Final Verdict
This gets a total of 4.5 out of 5 on our scoreboard, near perfection compared to its other competitors. 
The Apollo City is a high-end urban scooter that I believe any commuter should check out. It reaches the perfect spot of providing incredible pace and convenience and excellent consistency and service while being inexpensive and durable. The efficiency, as well as the scooter's overall durability, are very impressive for the price. 
I don't believe there are any electric scooters in its class that can match its performance. The Apollo City is definitely worth the investment. 
Apollo City Electric Scooter Video Review
Apollo City Electric Scooter Specifications

Top Speed
22 MPH

Dimensions
41.3″ x 7.7″ x 13.9″

Motor
600 watts

Range
28 miles

Battery
48 Volts

Charge Time
4 hours to 8 hours

Max Load
220 LBS

Weight
39 LBS

Wheel Size
8.5 inches

Wheel Type
Pneumatic tires

Brake System
Regenerative Braking System

Warranty
24 months

Price
$$$$
FAQs
References
zippyelectrics.com may earn commissions when you purchase items through links to external source such as Amazon. Read our affiliate disclosure here.