11 Best Skateboard Wrist Guards & Gloves 2023: Top Picks & Reviews
Skateboarding is an extreme sport and, for most people, a dangerous one. Not when you prioritize safety, however. 
One way to ensure this is to use the required protective gear. You can start by choosing the best skateboarding wrist guards. This particular set of protective gear will help soften and absorb the impact when you fall on your wrists, reducing the risk of serious injuries.
There are many skateboarding disciplines, and the amount of risk is different from each one. If you are into street skating, you are more prone to hard falls and ankle sprains. Most of the time, you will tend to land on your hands to prevent your head or other body parts from hitting the ground. However, the impact can still cause injuries, depending on the pressure you place on your wrists. This is why wearing wrist protection for any skateboarding discipline is essential. 
In this article, I will show you some of the best wrist guards for skateboarding. Whether you use a longboard vs. a skateboard or you:
Street skate

Skate downhill

Cruise

Skate parks

Freeride hills

Ride pump tracks

Use a skateboard for transportation

Or even snowboard,
You will find the right wrist protection for you on this list. We will also include a detailed buyer's guide to help you choose the best skateboard wrist guard for your needs.
Compare BEST Skateboard Wrist Guards & Gloves
Rank
Products
Feature
Website
Best Overall
✔ Stylish
✔ No slippage
✔ Provides extra support
Best Premium Option
✔ High-density splint
✔ Comfortable
✔ You can replace the splints
Best Budget Pick
✔ Easy to wear and remove
✔ Excellent fitting
✔ Unparalleled protection
Best for Snow and Skate
✔ Provides warmth
✔ Excellent impact absorption
✔ Can be concealed under your snow gear
Stylish Option
✔ Excellent fitting
✔ Maximum breathability
✔ Impact-resistant ABS plastic
Best for Beginners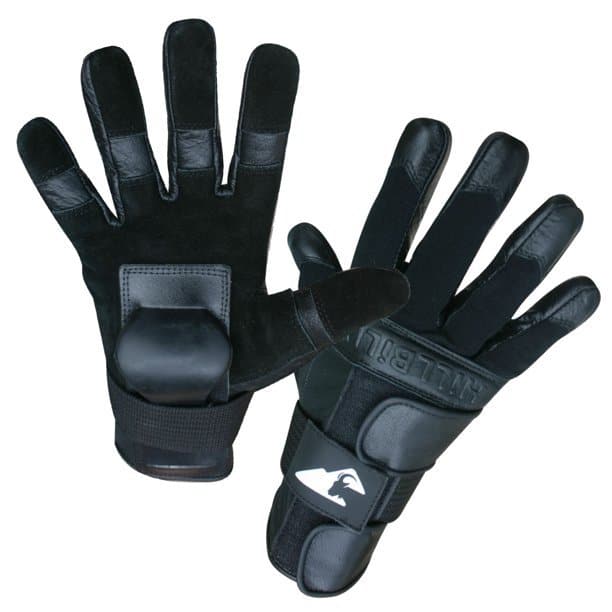 ✔ You can get them with finger protection or fingerless
✔ They look sleek
✔ They provide full protection
Best for Kids
✔ Excellent protection
✔ Breathable
✔ Fits comfortably
Best for Teens
✔ Excellent protection
✔ Durable
✔ Breathable
Best for Extreme Riding
✔ Unrestricted finger movement
✔ Contoured protective plate
✔ Expanded protection and coverage
Best for Beginners
✔ Durable
✔ Excellent fit
✔ Excellent protection
Best for Longboarding
✔ Durable
✔ Explicitly made for longboarding
✔ Multiple sizes for kids and adults
11 Best Skateboard Wrist Guards & Gloves in 2021
1. Smith's Safety Scabs Pro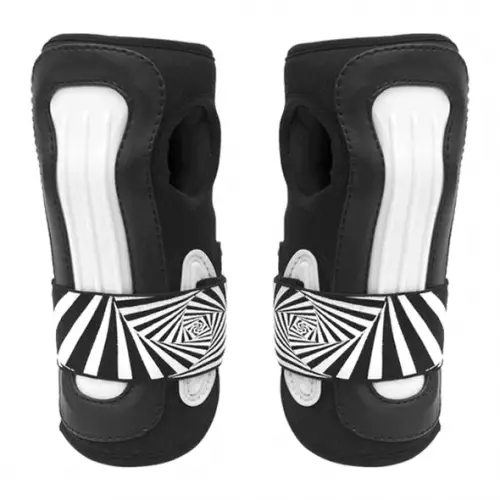 These skateboarding wrist guards are the best for many reasons. They are flexible, durable, available in different sizes, and come in a variety of different colors and styles. This set is an excellent option for both beginners and pros alike, and you can wear them for almost any skateboarding discipline, including downhill if you make sure you get a good pair of sliding gloves to go with. 
Stylish with an Excellent Fit
Aside from the security and superb protection, they come with an extra thick splint for maximum protection, making them more stable. Having an extra layer of protection means it does not slip, and you can rely on them for extra protection. The best thing about this option is its durability at a reasonable price.


Final Verdict
Overall, the Smith Scabs Pro Wrist Guard is one of the best choices for almost any skateboarding discipline and style. They are very stylish too, which is definitely a plus in our book. 
2. Triple 8 RD Wristsaver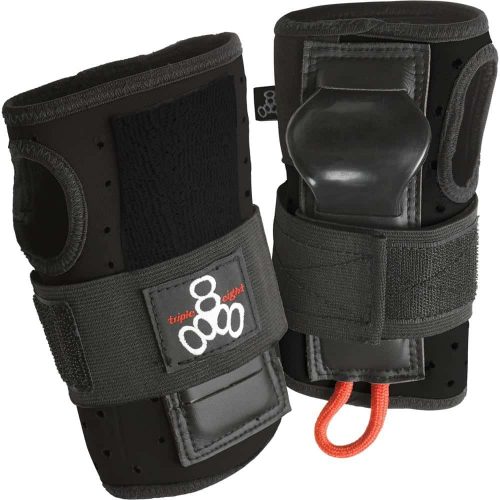 If you want a wrist guard set that has premium protection and a deluxe feel, this option might be your best bet. The Triple 8 RD Wrist Saver is the best premium option for other reasons than just the price. It is designed to be extra durable because it was made for extreme roller derby sports. However, you can still use this set for skateboarding and its different skating styles. 
Premium Feel and Quality
As mentioned above, this option has a premium feel. But what does it feel exactly? It feels great to wear. It has an excellent fit, a stylish look, and remarkable protection. It is a multi-purpose option that can protect you for years without showing any signs of wear.


Final Verdict
These wrist guards are excellent all-around options that you can use for any style of skateboarding and for other roller sports as well. You can even use them in the snow if you decide to go snowboarding. It is the only pair you will ever need for most extreme sports.
3. Triple 8 Saver Series Wrist Saver II
The Triple 8 Saver Series Wristsaver II is a great choice for both kids and adults. It is a budget option, but wrist guards are really not that expensive. It is easy to wear, and easy to remove, making it a great option that you can throw on without making a fuss. The design is pretty convenient because instead of three straps, it only comes with one. 
Excellent Fit and Protection
Aside from the unique design and its overall protection, it provides an excellent fit. Plus, the sleek design makes it a stylish choice that will complement your look.


Final Verdict
Overall, these wrist guards make an excellent choice if you are all up for safety and convenience. It is a great option for street skating, longboarding, and for people who just want to stay protected when zipping the streets to get to work.
4. Burton Impact Wrist Guards
Looking for a reliable pair of gloves you can wear for skating and snowboarding? Look no further than the Burton Impact Wrist Guard Set. It might be the only set of gloves you will ever need for skating and ripping the snowy peaks!
The Best of Both Worlds
These gloves are truly the best of both worlds. They might be made for the snow, but because they are more breathable than snow gloves, you can also wear them when skating on flat ground. You can also get them in different sizes for both kids and adults. The best thing about these gloves, however, is the style. They are stealth-style wrist guards that you can wear underneath your jacket.


Final Verdict
Overall, these Burton Impact Wrist Guards make an excellent option if you are searching for subtle gloves when snowboarding and skateboarding. It provides a good amount of protection, and the snowboarding pros wear them, which is a good sign for durability considering the pros can fly on a snowboard.
These wrist guards scream style and comfort. They might not have enough skin protection, but the impact-resistant ABS plastic can do all the heavy lifting in protecting your wrists. 
Great for Beating the Summer Heat
Wearing extra gear when skateboarding in the summer can be very annoying and hot. Sometimes you want to even skate without wearing safety gear, but it is better to be protected even if it's hot out. These gloves look and feel really great, thanks to their maximum breathability and fingerless style.
Final Verdict
If you still want to add an extra layer of protection to these gloves, you can always wear regular gloves underneath and the wrist splint will feel the same.
6. Hillbilly Wrist Guard Gloves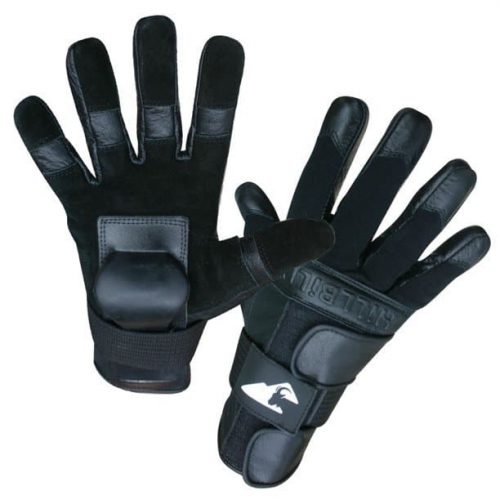 If you want full wrist and hand skin protection, the Hillbilly Wrist Guard Glove Hybrid will make an awesome choice for you. They are made with high-quality goatskin materials that are very stylish and durable.
Full-finger or Fingerless; It's Your Choice!
You can also get these gloves with full fingers or fingerless ones to add a little character and fewer movement restrictions if you want to do some skateboard grabs.


Final Verdict
Although these gloves can feel a little hot during the summer, it is still better to fully protect your wrists and hands when engaging in extreme sports.
7. Simply Kids Wrist Guard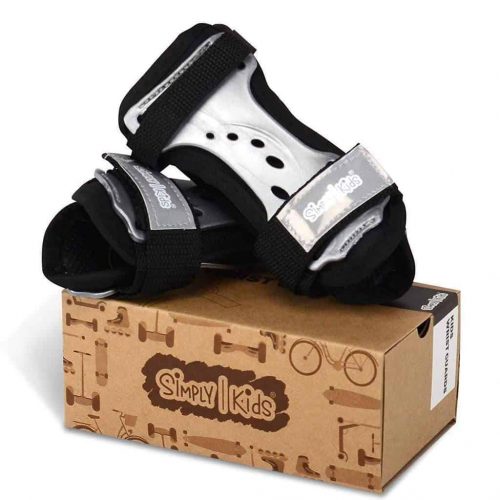 You probably guessed it, these wrist guards are a great option for kids. Simply Kids Wrist Guards, from the name itself, is designed with proper protection for kids. It provides the right fit, and it comes in different colors that young skateboarders will appreciate. 
The Best Protection for Kids
These wrist guards provide protection for your kid's wrist and palm. They might be small, but they are just as effective as those designed for adults.


Final Verdict
These wrist guards might be the best for kids, but you still need to make sure that your kid knows how to skate and to fall properly to avoid injuries.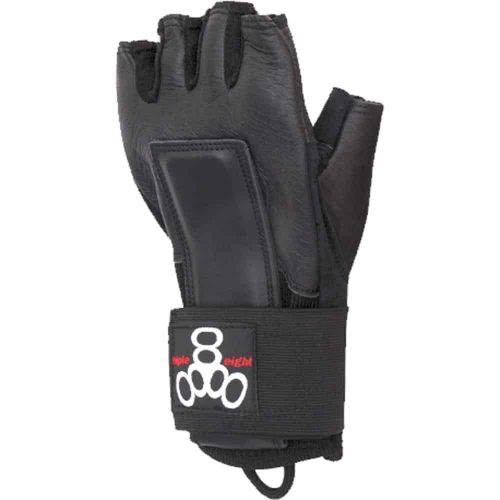 Sporting a fingerless style, the Triple 8 Hired Hands Wrist Guards makes an excellent choice for teens who want to skate responsibly. 
Protection Without Compromising Style
These wrist guards come in four different sizes, and they provide extra protection with the fingerless style. Plus, it is built with shock-absorbing EVA layers that are double-stitched for durability.


Final Verdict
There is really nothing bad you can say about these protective wrist guards, so if you want a sleek style with added comfort and protection, you or your teens should opt-in for this awesome set of wrist guards.
One look at the wrist guards and you will already know that they are not meant to be used lightly. The 187 Derby Kill Pads are made as skateboarding, in-line skating, and roller skate wrist guards, particularly roller derby (1).
Extreme Guards for Extreme Riders
So whatever your ride of choice is, these wrist guards are built to protect. They look exceptionally stylish and they fit easily with their quick-slide design.


Final Verdict
We truly recommend these pads for people who are not afraid to take risks in skateboarding and other roller sports. However, any skill level is welcome to try them out.
10. 187 Killer Pads Wrist Guard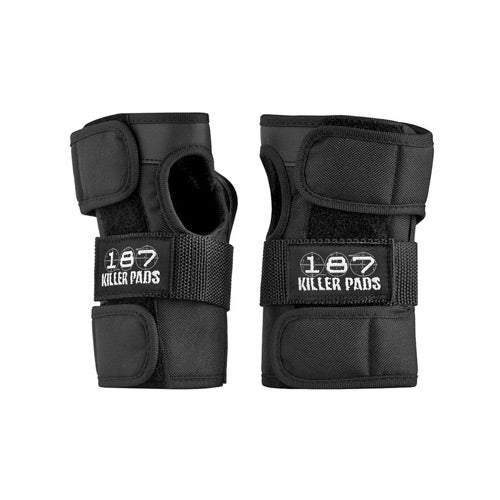 If you want to start learning how to ride a skateboard, the 187 Killer Pads Wrist Guards will make an excellent choice. They are straightforward, fit great, and provide a good amount of protection for the user. 
Simple Look; Excellent Protection
They may look like your ordinary wrist guards but there is more to them than what appears. They are durable wrist guards equipped with a sturdy splint and made with durable materials that will surely last from your beginner days until you become a skilled skateboarder.

Final Verdict
This is the best skateboarding wrist guards for people who are looking for a reliable and safe choice for hand protection.
11. Triple 8 Sliders Longboard Gloves
This option is not exactly a wrist guard. These are longboard slide gloves that provide wrist protection and more. 
Slide and Drift
It is essential for a longboard like you to wear slide gloves, especially if you like doing hand-down slides and tricks. This product is built with durable materials and multiple slide pucks so the palm and fingers can slide smoothly.


Final Verdict
If you want to learn the basics of longboarding, particularly downhill and freeriding (2), these gloves would make an awesome choice. These will provide you with protection as well as ensure you have fun sliding!
The Benefits of Wearing a Wrist Guard When Skateboarding
Before I tell you the benefits of wearing a wrist guard in skateboarding, I want to warn you that skateboarding is a dangerous activity. Wearing a wrist guard may help reduce the impact, but it cannot guarantee that it will prevent an injury. 
If you decide to ride a skateboard, you should skate at your own risk. Depending on the severity of the fall, wrist guards could help prevent major injuries and broken bones.  
1. Reduces the risk Of major injuries
The only reason I say "major" injuries is because there is a slight chance that you can get injured even with wrist guards on. There is no denying that riding a skateboard is a dangerous sport or activity, and a lot of people have fractured or broken a bone when skateboarding. However, you can still reduce these risks by being careful, perfecting your skills, following proper safety tips (3), and of course, wearing the recommended safety gear.
2. Puts your mind at ease
I really believe that wearing the right gear will give you more confidence and, most of the time, when people wear a helmet, pads, or wrist guards, they don't even get to use them. It means that they don't even experience falling once they have their protective gear on, and that is a good thing, right? I think it's because of the confidence it gives you, enabling you to perfect your moves and give you more balance and stability when you are riding. However, accidents can happen, so it is always better to be ready. 
3. Protects you from potential accidents
Even if you are a skilled skateboarder who can perform difficult tricks or just as good as being able to balance on a skateboard properly, you can never tell when an accident will take place. This is why they are called accidents. Being ready for such an eventuality is the best decision you will ever make. So make sure to always wear protective gear. 
Buyer's Guide: How to Choose the Best Skateboard Wrist Guard for You
When shopping for wrist guards, there are certain factors you must consider so you can choose the best pair for your needs and skateboarding preference. 
Purpose
As listed above, most of the wrist guards work best for specific purposes and skating disciplines. However, it is safe to say that most of them are for skateboarding and other sports and activities. You can use them for other roller sports such as roller-skating, in-line skating, as well as snowboarding. 
However, some products are designed primarily for a specific function, making them a more effective choice than if you buy a generic option. So I highly suggest that you choose one based on what the manufacturers recommend them for. 
The length of the splint, for example, varies according to the skateboarding discipline. For freestyle skateboarding and longboarding, skaters often use their hands a lot to perform tricks, which is why the shorter length would be better for this type of use. 
A longer palm splint should be better if you want more protection if you use your skateboard for commuting and other disciplines where you won't be using your hands to perform tricks.
Fitting and Flexibility
Another thing that you really need to make sure of is the fit. Getting a wrist guard for skateboarding that fits well is essential if you want to get the most protection. You don't want something that is too tight that you would lose the range of motion you need when skating. You don't want something that is too loose that it will defeat the primary purpose.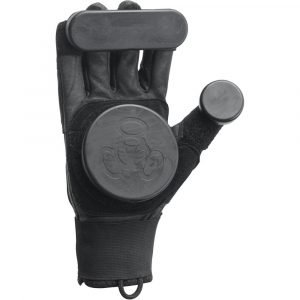 What you want is to feel comfortable. If you are looking for the right wrist guard, you can get one that is equipped with straps for a more flexible fit. However, it is still best to get the closest size, especially for kids. 
Style
The style might not be as important for some but, for most people, the style says it all. You want something that you feel comfortable wearing in terms of fitting, and in terms of your style. Sometimes, the style of the wrist guards will affect the functionality as well. 
Some skateboard wrist guards resemble traditional gloves, meaning that they provide more coverage for the wrist, as well as the fingertips. This design could be very useful for doing sliding tricks on a longboard or shortboard. It can also be useful when you need to do a pre-drift when racing down a steep hill. 
Some options are designed like fingerless gloves, which frees up your fingers for grabbing the board and more. Choosing the style depends on the combination of your riding style and your preference.
Materials
Different skateboarding wrist guards are made with different materials and fabrics. For example, longboard sliding gloves with wrist protection are often made with leather or polyester equipped with sliding pucks made out of strong and durable plastic. 
Most of the common wrist guards are made with:
Calfskin

Latex

Goatskin

Leather

Different fabric

Elastic materials, and more
The thicker the material, the longer it will last. The more protection it can give you against the cold weather as well. Using thin wrist guards, however, will be more ideal during the summertime. 
The hard materials that make the splint are often made of thick foam or carbon fiber. The thicker material, however, can affect your flexibility and restrict your movements. 
Conclusion
Skateboarding may look easy when you are watching skilled skaters on videos, but it takes quite some time for you to perfect the moves. It is definitely recommended to wear your helmet, pads, and one of the best skateboard wrist guards featured on this list, especially if you are a beginner. 
Although you might see pro skaters not wearing any protection, it is their choice. Some professional skateboarders choose to wear the recommended gear because, just like you, they want to be able to skate another day. Just always remember to skate at your own risk, and have fun!
FAQs
References
zippyelectrics.com may earn commissions when you purchase items through links to external source such as Amazon. Read our affiliate disclosure here.