11 Best Skateboard & Longboard Knee Pads 2023: Top Picks & Reviews
Skateboarding is an extreme sport that recently became an official Olympic sport with categories like the park, street, and more. If you are thinking about getting in on the fun and want to learn how to ride a skateboard, it is best to start slow and make sure you wear a helmet, pads, and even wrist guards. 
Even professional skateboarders like Tony Hawk (1), Lizzie Armanto (2), and other pros wear all the recommended protective gear. Although you would still see some skateboard clips of people doing gnarly tricks without as much as a helmet, you cannot blame them because it is their choice. 
In this article, we will discuss the best skateboard knee pads, their benefits, and how they can protect you when skateboarding. Knee pads are not the only type of gear you should wear, but they are one of the most important ones. 
We listed down the best knee pads for skateboarding, longboarding, and other disciplines in skating such as:
Park skateboarding

Cruising

Downhill skateboarding

Freeriding

Street skateboarding, and more….
If you are interested to know the best skateboard knee pads, read this list. We will also throw in a buying guide and other helpful information.
Compare BEST Skateboard & Longboard Knee Pads
Rank
Products
Feature
Website
Best Overall
✔ Durable
✔ Excellent Fit
✔ Comes in many sizes from JR to XL
Best Premium Option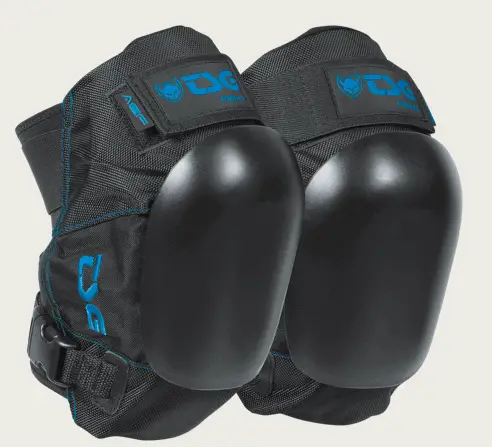 ✔ High-performance hardshell and impact foam
✔ Multiple layers of foam aroung the knee
✔ Replaceable knee cap
Best Budget Pick
✔ Extremely soft
✔ Excellent fit
✔ They don't slip
Best for Skateboarding
✔ Stay in place
✔ Lightweight
✔ Easy to strap on
Stylish Option
✔ Durable
✔ Excellent protection
✔ Less friction
Stylish Option
✔ Stylish
✔ Provide protection with more flexibility
✔ Durable
Best for Big and Tall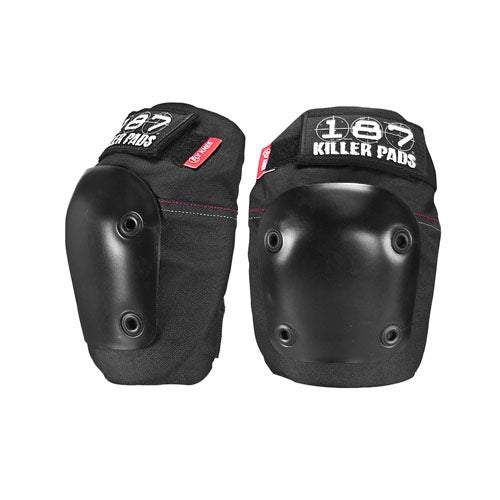 ✔ Versatile
✔ Easy to wear
✔ Durable
Most Durable
✔ Pre-shaped design
✔ Tear-resistant nylon
✔ Neoprene butterfly straps
Best for Extreme Riding
✔ Best impact absorption
✔ You can hide them under your pants
✔ Not bulky at all
Best for Downhill Racing
✔ Compact
✔ Removable cap
✔ Can be worn under your jeans
Best for Kids
✔ Made with EVA padded materials
✔ Versatile
✔ Excellent sizes for kids
11 Best Skateboard & Longboard Knee Pads in 2021
1. 187 Killer Pro Knee Pads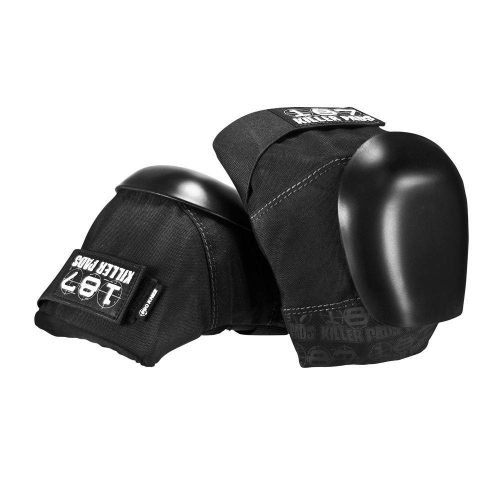 These knee pads are the best all-around choice for any type of skateboarding. Whether you are flying high, zooming down a hill, grinding rails, or cruising to work, you can never go wrong with these pads. 
The Best Qualities for Any Skateboarding Style
These knee pads provide excellent protection, flexibility, and look stylish. A pair would go with any skateboard get-up. It is durable, and the shell slides smoothly on most surfaces to absorb the impact even further. It is built with dual-density foam and securely aligns the removable cap in the optimum position.


Final Verdict
The 187 Killer Pro Knee Pad set is truly one of the best options for beginners and pros alike. It has the protection you need without compromising flexibility and comfort for any skateboarding style.
2. TSG Knee Pad Force V A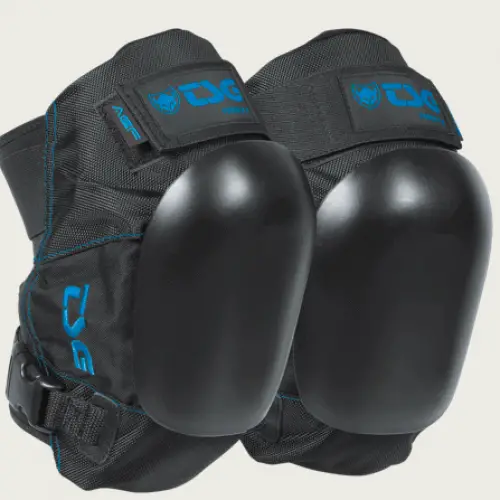 If you are looking for premium knee pads that can provide you with excellent protection and feel, the TSG Force V A is one of the only choices that come to mind. 
Style and Protection
This stylish knee pad set offers extra protection, thanks to its extra-hard cap and additional foam layer. It features an anti-shift liner to keep it in place and durable adjustable Neoprene butterfly straps for an excellent fit. What makes these knee pads a premium choice is the combination of the high-impact absorption and the ACF foam that is made to mimic the structure of human cartilage.


Final Verdict
If you are looking for quality and looking to invest in high-performance knee pads that are worth the price, the TSG Force V A is the right choice for you.
3. NoCry Professional Knee Pads
Just because you are on a budget, doesn't mean you have to compromise on quality. The NoCry Professional Knee Pad will make a great choice for skaters on a budget. 
Feels Like Pillows for your Knees
These knee pads are made with a heavy-duty shield, but behind all that hardness is an extremely soft surface that will protect your knees from the impact of a fall. One of the best qualities of these knee pads is the secure fit.


Final Verdict
These knee pads would have been the perfect pair if it wasn't for the design. Some people might not like the look but, in terms of protection, these knee pads have your back, or in this case; your knees.
4. Pro-Tec Street Knee Pads
If you want a set of knee pads that will not restrict your movement, the Pro-Tec Street Knee pads will make an excellent choice. 
Maximum Flexibility
This set of knee pads are great for street skateboarding. It gives you the protection you need while still allowing you to flick the board when doing flips and bend your knees when popping ollies. Unlike vert pads, it does not have the same number of foam layers that restrict movement.


Final Verdict
Street pads might not have the same level of protection, but since street skateboarding requires more leg movement and faster reactions, the Pro-Tec Street Pads make an excellent choice for street skaters.
5. Triple 8 KP22 Knee Pads
A longboard is a type of skateboard that is designed to go faster. Because of the longer board, wider trucks, and larger wheels, a longboard is much more stable than a shortboard. Still, you need to wear safety gear when using it. These particular knee pads are specifically designed for going fast downhills on a longboard. 
Excellent Coverage and Impact Absorption
The Triple 8 KP22 Knee Pads come in different sizes for kids and adults. Because of the extra easy-slide surface and wider coverage, they make an excellent choice for longboarding and going fast. They are also very flexible, enabling the rider to go low for a more stable ride.


Final Verdict
The KP22 is a great choice if you want to ride fast downhills or go at maximum speed when riding an electric skateboard.
6. Triple Eight Street Knee Pads
These street pads are more flexible than most knee pads for longboarding or for vert skating, making them great for street skateboarding. 
Stylish and Flexible
These street skateboarding pads look sleek and stylish. They are very minimalist in style, which makes them a better choice if you want something that will go with any outfit.


Final Verdict
Skateboarding is not just about the tricks, it is a lifestyle as well, which includes fashion trends and more. If you want something that will protect your knees when skating without cramping your style, the Triple 8 Street Knee Pads is the set for you.
7. 187 Killer Fly Knee Pads
The 187 Killer Fly Knee Pads will make an awesome choice for the bigger and taller riders. The coverage and characteristic are the same as the 187 pros, but they come in larger sizes and are easier to wear.
Same Protection; Better Comfort
This option has the same protection, form-fitting design, superior materials, and coverage, but provide better comfort for most skateboarding disciplines.


Final Verdict
Overall, these knee pads are very versatile, and if you cannot really decide on which one works best, these pads might be a good all-around choice for you.
If you are looking for an all-around durable knee pad set that you can use and abuse daily, the TSG DHP SK8 Knee Pads are here to sacrifice themselves to protect your precious knees.
Extreme Durability and Comfort
Some of the most notable features of these pads are the hardshell construction that reduces friction and the multi-layer EVA foam protection around the knee. It has excellent impact absorption plus a pre-shaped design for better fitting.


Final Verdict
You can definitely use these pads for years. If you want them to last longer, make sure you learn to fall and slide on your knees.
9. G-Form Pro X2 Foam Pads
If you are into longboard freeriding, these pads might be a great option. They are less bulky than knee pads, and you can wear them under your jeans. 
Concealed Comfort
Because they are very thin, you can hide them under your pants. They might not be for sliding, but G-Forms have the best impact absorption among all the knee pads mentioned on this list.


Final Verdict
If you are not convinced, you can watch G-Form videos that demonstrate how well it absorbs impact. They make a great option for skating transitions, freeriding, a little bit of downhill, and any other light skating.
10. Sector 9 Gaskets Knee Pads
These knee pads are a big hit in the world of longboarding, better known as downhill skateboarding. Made by a brand with a lot of influence on the downhill scene, these pads are built to perform.
Removable Cap; Less Bulky
Even with the cap on, these knee pads are less bulky than other choices. They make an excellent choice you can wear under your leather suit if you compete in longboard races that run as fast as 60 to 70 mph.


Final Verdict
Because of its excellent performance, a lot of pro downhill skateboarders choose this option for racing. However, they make an excellent choice for beginners as well.
11. PHZ 3-in-1 Protective Gear Set
Just like adults, kids need the same knee protection when skateboarding, especially if they are just learning. They might have more flexible bones than older people, it is still ideal for them to wear the necessary gear, and you can start them with the PHZ protective gear set that includes knee pads and more. 
Kiddie Style; Professional Protection
These knee pads might look like toy pads, but they actually work in reducing the chances of injuries when skateboarding or rollerblading. A lot of kids excel in sports, so make sure you start them young.


Final Verdict
If you want your kids to be protected when playing extreme sports, you can choose these knee pads. They are stylish, protective, and come in the right sizes for better functionality and protection.
The Benefits of Wearing Knee Pads When Skateboarding
There are many benefits when it comes to wearing gear when skateboarding. I will say this upfront that knee pads in no way can ensure that you won't get injured, but they can help a lot in reducing the excruciating pain of falling the wrong way on a skateboard. 
If you want to skate safe and to keep on skating, here are some benefits of wearing the best skateboarding knee pads that you should know about:
They let you slide when you bail
A lot of vert and park skaters that skate huge ramps, bowls, and pools take advantage of a knee pads' hard shell. Without producing much friction, the material of the knee pads allows you to slide down when you experience an unexpected fall. 
Of course, you still need to learn how to successfully land on your knees and slide out the transition to absorb impact. If you are planning to fly high over ramps and pools, learning this technique with knee pads will help a lot when it comes to preventing yourself from getting hurt. 
A lot of professional skateboards recommend that beginners should learn to fall before learning anything else, and it does make a lot of sense. 
They protect your knee from impact
Knee pads are not only for protecting your knee from scabs when you fall off your skateboard, but they are made to absorb the impact of your fall, which can prevent injuries and bruises. Whether you are just learning how to skateboard or have been skating for a while now, accidents can still happen, and it is always best to be ready for them. 
Wearing knee pads will significantly reduce the hard impact, so make sure you choose the right one, including the right size, and coverage. Wearing knee pads that do not fit may not have the same effect.
They reduce the risks of a knee injury
While knee pads don't ensure that it can prevent injuries 100%, it can still reduce the risks of getting injured more times than not wearing any pads, so it is only logical to wear knee pads especially if you are trying to avoid getting hurt. 
With that being said, before riding a skateboard, you should already know about the risks; whether you are looking for an effective way of transportation or looking to learn tricks.
Buyer's Guide: How to Choose the Best Knee Pads for You
The list above may have very good recommendations already, here is a more detailed way to choose the best skateboard knee pads for you. Although knee pads work for most skateboard disciplines and styles, it is best to choose one that will fit you and your needs. 
Here is a detailed buyer's guide that will help you select the right one for you, in terms of skateboarding discipline, size, and style:
Choose your Discipline
If you haven't yet, you should decide on what type of skateboarding discipline you want to learn. For street skateboarding (3), you want something that is more flexible. You want to choose a set of knee pads that will provide a great amount of protection without restricting the movement you need to perform and execute tricks properly. 
For park and vert skateboarding (4), you want something with the best impact protection and coverage. Since this skateboard discipline does a lot of tricks on ramps, pools, and transitions, you are most likely going to need high-impact absorption when you decide to learn launching into the air.
When longboarding (5), you want to choose a set of kneepads that allow you to bend your knees and get low. You also want something that can absorb impact and protect your skin from scabs. Getting bruises and scabs is a longboarder's worst enemy, whether they are cruising, freeriding, or bombing down a steep hill. 
Some people know how to skate multiple disciplines such as downhill and street, and it is ideal for them to get versatile knee pads or get two pairs of knee pads. Just make sure that you are protected while being able to skate without feeling awkward. 
Choose the Size and Fit
Wearing knee pads that are too small or too big for you will be less effective. You should always choose something that will fit you perfectly to get the best protection. 
The right fit should not slide out of place even when you are actively using your legs when skateboarding. You also don't want it to be too tight that it will restrict movement and the ability to skate properly. 
To figure out the right size for you, make sure you read the description on the manufacturer's website and have a flexible tape measure in handy. 
Determining the Pad Type
Foam Pads
Foam pads are the best at absorbing impact. However, they do not have the hardness that you can find on vert pads. We recommend foam pads if you want to wear something under your jeans when freeriding, cruising, or skating as a way of transportation. It is also important to know that they are not used for sliding, but they are very effective in high-impact absorption for direct falls on the ground. 
https://zippyelectrics.com/wp-content/uploads/2020/12/Pro-Tec-Street-Knee-Pads.png
Street Skateboarding Pads
Street skateboarding pads don't offer as much protection as foam pads, but they offer the best flexibility and style. They are less bulky than other types of pads, which most skaters wear to go with their look among anything else. We do not recommend this option for beginners. If you are an experienced skateboarder looking for a little bit of protection that does not hinder your ability to move freely, these pads will make a good choice.
Vert Pads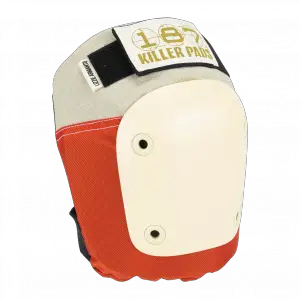 Vert pads offer more protection than street pads and foam pads. Because they are made for people that fly high on mega ramps and 10-feet pools, they feature more protection such as thick-foam wrapping and hard plastic material for sliding down when you need to bail. 
It also has an extra layer of foam under the shell and an extra cloth layer that is wrapped around behind the knee for full protection. If you want to skate vert, park, or go longboarding, vert pads would be an excellent choice. The back, however, is a little bit thin. But they are better that way for more flexibility when performing tricks or when bending your knees to get low when speeding fast downhills. 
Quality of Construction
Skateboard knee pads are usually made with the same materials to maintain a certain standard of protection and durability. There may be some differences between cheaper pads in terms of wear-resistance and build-quality, so make sure you consider that factor as well. 
If you want to make your money's worth, always go for something that you can use on a daily basis for a long time. Don't worry, all of the items on the list are carefully curated and most of them are built to last, especially if you don't fall as much as you get better at skating. 
Conclusion
Now that you have a better idea of how knee pads can help protect you when doing extreme sports such as skateboarding and longboarding, we hope that you consider investing in one for your safety, especially for your kids. 
With that being said, make sure you choose one of the recommendations on the list to get the best protection in whatever skating style you choose. Don't forget to have fun and enjoy the ride!
FAQs
References
zippyelectrics.com may earn commissions when you purchase items through links to external source such as Amazon. Read our affiliate disclosure here.