10 Best Hoverkart Hoverboard Go Kart Attachment Seats 2023
Hoverboards, aka self-balancing electric scooters, are fun electric rides for individuals of any age group. Despite only having two wheels, hoverboards are easier to ride than it looks. Using its self-balancing gyroscope technology, it wouldn't take a lot of time for a beginner or a kid to learn how to ride one. 
However, did you know that there is a much safer and alternative way to ride a hoverboard, without the risk of falling on your back, or worse, falling on your face? 
This alternative method involves buying a hoverboard attachment kit that will enable you to transform your two-wheeled hoverboard into a three or four-wheeled go kart. Yes, you heard that right. You can transform your hoverboard into what we call a hoverkart. 
In this article, we will feature the best hoverkart options for your existing hoverboard. Buying one of these can make riding a hoverboard more exciting, fun, and comfortable as you will be sitting down rather than standing up. 
There are many hoverboard seat attachment options to choose from, but we took the liberty to narrow down your choices to your best hoverboard go kart attachments in the market, so it would be more effortless for you to choose the right one for you or your kids.
We also included a buyer's guide at the end of the list to help you narrow down your choices when looking for the best hoverkart! 
What is a Hoverkart/ Hoverboard Go Kart Attachment?
A hoverkart, aka as a hoverboard buggy or hoverboard seat attachment, from the name itself, is an attachment for your hoverboard that includes more components such as extra wheels,  steering wheel, seat, and more. 
Instead of leaning your weight in the direction you want to go, some hoverkarts come with hand-operated handles and steering systems that will make it work like an electric go kart. 
The question is, why would you want to transform a perfectly working hoverboard into something that is bulky and probably won't fit in your car?
Well, the answer is pretty simple; because it is FUN!
You can always uninstall the attachment if you want to ride the hoverboard normally. Plus, depending on your hoverboard specs, you can turn it into the ultimate racing or all-terrain go-kart. Of course, the hoverboard itself and the hoverkart should be equipped with the right wheels and motor. 
Hoverkarts are designed differently. Some options are as simple as having an extra wheel, handles, and a seat. While some options are full-blown go kart kits that will transform your hoverboard completely, making your old hoverboard unrecognizable. 
Now that you know what a Hoverkart is, it's time to go through the list of the best hoverkart choices in 2020.
Compare BEST Hoverkart Hoverboard Go Kart Attachment Seats
Rank
Products
Feature
Website
Best Overall
✔ Easy to strap
✔ Excellent build quality
✔ Adjustable
Best Premium Option
✔ Built to last
✔ Excellent features
✔ Easy to attach and assemble
Best Budget Pick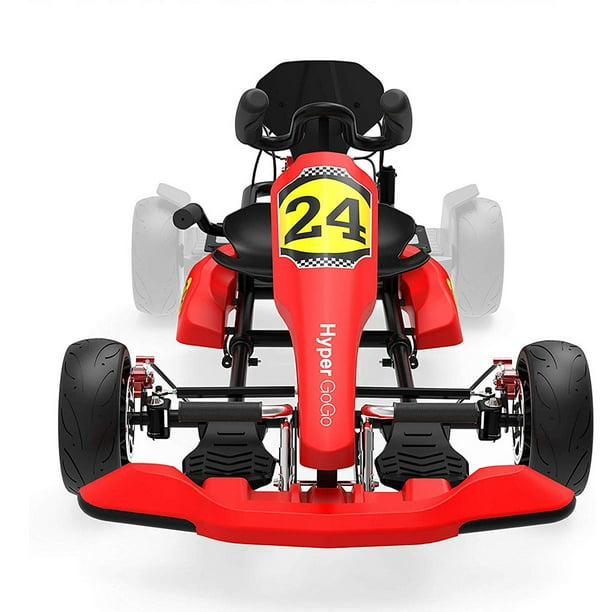 ✔ Compatible with most hoverboard
✔ Safe to use
✔ Comfortable seat
Best Build Quality
✔ Easy to assemble
✔ Excellent quality
✔ Compatible with most StreetSaw Hoverboard models
Best for Adults
✔ Easy to install
✔ Safe to use
✔ Fully adjustable
Best for Kids
✔ Easy to install
✔ Budget-friendly
✔ Height adjustable
Best for Teens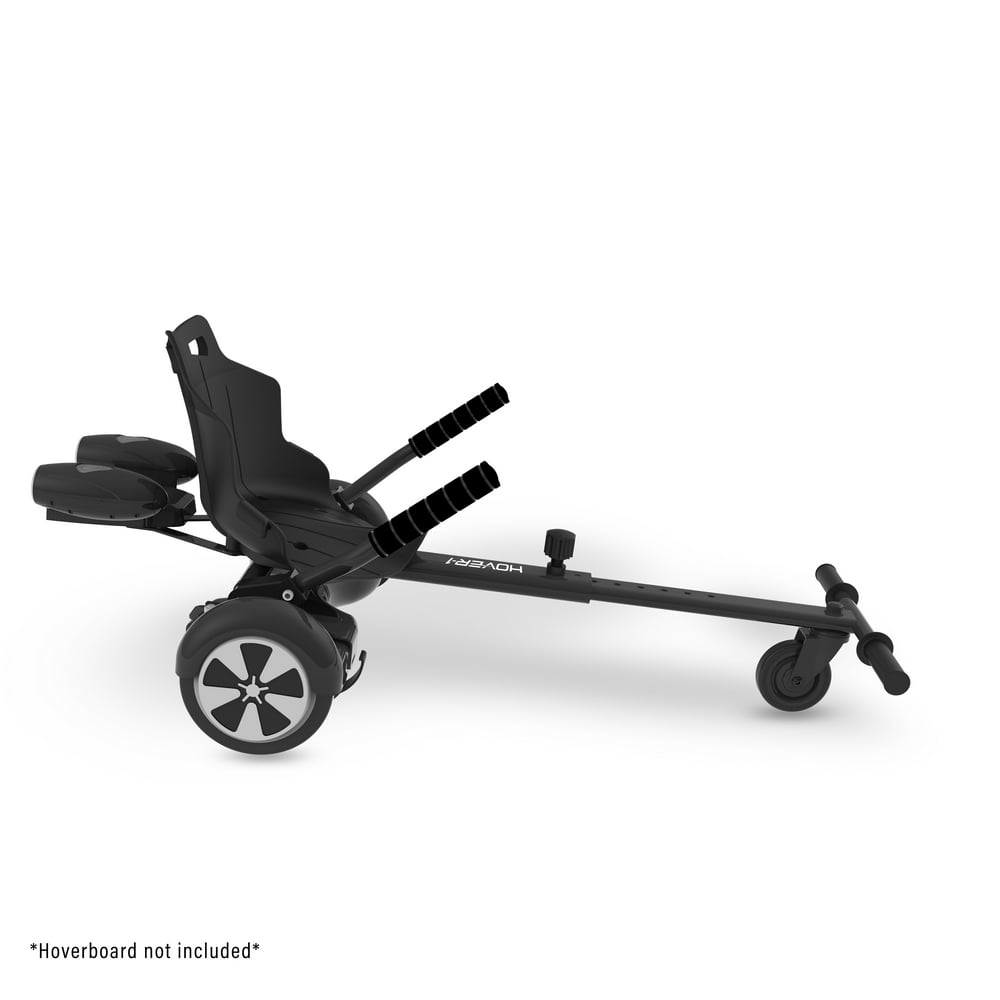 ✔ Comes with a fog blaster
✔ Decent speed and range
✔ Equipped with turbo headlights
Best for Heavy Riders
✔ Easy to assemble
✔ Rear suspension included
✔ Larger tire for a smooth ride
Best for Racing
✔ Racing aesthetic
✔ Easy driving controls
✔ Solid tires
Best for All-Terrain
✔ Extremely durable
✔ Smooth ride
✔ Comfortable Seat
10 Best Hoverkart Hoverboard Go Kart Attachment Seats In 2021
We selected the Hover-1 Buggy as the best hoverkart overall in this list for a bunch of reasons. It is simple, easy to install, and compatible with most 6.5-inch hoverboards. The hand operation will give the rider full control of your riding experience. It is also equipped with a handy drift wheel that allows you to turn in all directions. 
Build Quality
The Hover-1 Buggy is made with high-quality and durable materials. Being the best hoverkart on the list has its perks. It may not have many features, but it is a reliable hoverboard seat attachment that is built to last. It is equipped with an adjustable frame that can accommodate different ride heights for a more comfortable position when riding. Plus, it is very easy to assemble and strap on and off your hoverboard. 
Independent Rear Wheel Drive
The Hover-1 Buggy truly stands out when it comes to ease of operation. The strategic positioning gives you full control for going forward, reversing, and doing quick turns. Overall, this hoverboard seat attachment unlocks the full potential of your existing hoverboard.
Specifications
2. Segway Ninebot GoKart Kit
The Segway Ninebot GoKart Kit is one of the best hoverboard conversion kits in the market. It completely transforms the Segway Ninebot S into an entirely different electric ride. It may be a little pricey, but if you are a fan of the finer things in life, it would be totally worth it. 
Build Quality
In terms of build quality, the Segway Ninebot GoKart Kit is made from lightweight impact-absorbing plastic. It is built with two layers, with the inner layer utilizing a steel beam that provides high strength for longevity while protecting the deformation of the scooter body. Aside from the durable frame, it is also equipped with non-inflatable hollow tires designed for a smooth ride. 
Feature-Rich 
Aside from the premium look and premium feel, the Segway Ninebot GoKart Kit is packed with tons of useful features. It has a mechanical hand brake, redundant brake system, headlights, and built-in power application to make it easier to operate using the built-in pedals. 
It may look complex, but it is very easy to assemble and attach to your Ninebot S. It is also foldable and compact, making it easy to fit into the trunk of any sedan.
Specifications
3. HyperGoGo GoKart Conversion Kit
The HyperGoGo GoKart Conversion Kit is real evidence that you don't have to spend a lot of money to transform your hoverboard into a fully-functional electric go kart. Not only is this hoverkart reasonably priced, but it is also compatible with most hoverboards. This go kart conversion kit is the real deal and the ultimate hoverboard accessory that anyone would be lucky to have. 
Build Quality
Despite its reasonable price, this hoverboard go kart attachment features a high-quality build. The frame is made with lightweight steel alloy and high-quality plastic for the outer layers. It comes with a fully adjustable shaft that makes it compatible with individuals of any age group. 
Ultimate Versatility
This hoverboard accessory comes with shock absorbers and disc brakes, converting your hoverboard into an entirely different ride. It is safe to use and easy to install, but the best thing about this option is the adjustable length, making it compatible with almost any hoverboard. That feature alone makes this hoverboard attachment truly worth the purchase.
Specifications
4. StreetSaw Hoverseat Attachment
StreetSaw Hoverboards are staples when it comes to the best hoverboards, so it is only fitting that this StreetSaw Hoverseat Attachment accessory is on the list. If you have certain StreetSaw hoverboard models, you can use this hoverkart attachment for a different kind of riding experience. 
Build Quality
This hoverkart attachment is made with high-quality materials that ensure its stability, reliability, and overall durability. It is made specifically for StreetSaw hoverboards, but with a little modification to the seat, it should fit hoverboards with a different brand. It is quite simple to assemble and easy to attach and remove so you can still ride the hoverboard normally. 
Ultimate Ride Comfort
The StreetSaw Hoverkart Attachment will instantly make riding a hoverboard more comfortable than ever. With this accessory, you will be able to ride a hoverboard without falling and reach further distances sitting in comfort.
Specifications
5. SCYMYBH Hoverboard Seat
Finding a hoverkart for kids is a lot easier since kids are smaller and can easily fit on smaller hoverkarts. Adults, however, are a different story. Fortunately, the SCYMYBH is an adjustable hoverkart option that suits most heights for better legroom. It also fits most hoverboards from 6.5 to 10-inch models. 
Build Quality
When it comes to the build quality, this hoverkart does not disappoint. It is made with high-abrasive premium-quality materials that can withstand a maximum weight of 264 lbs., making it suitable for adults of any shape and size. Because it can adjust to a smaller size, it also makes a suitable option for kids. 
Simple but Feature-Rich
It may look like just about any hoverkart option, but this option is actually packed with handy features that contribute to better ride quality and ease of use. It comes with thick straps for a secure attachment, non-slip handrails for better control, and PU universal wheels. With this attachment, kids and adults can make each hoverboard ride more enjoyable.
Specifications
Looking for a capable hoverkart that will suit your kids, particularly young teenagers? This option might be your best bet. It is a sleek, budget-friendly option that will give the rider a unique hoverboard riding experience. 
Build Quality
The Hover-1 Falcon is made with lightweight but durable materials, allowing you to use your hoverboard's full potential. It does not add a lot of weight or compromise speed and performance. 
The Ultimate Racing Experience 
It might not be a full hoverboard go kart conversion kit, but it is still equipped with features that will make your hoverboard seem like a real racing go kart. It is equipped with a fog blaster and turbo LED lights that add to the racing aesthetic. Teens can have tons of fun racing safely across tracks while enjoying the ease of operation.
Specifications
Not all hoverkart options are suitable for adults or heavier riders. If you want a comfortable seat with spacious legroom for a smoother ride, this option is on-point. It is equipped with a larger wheel, larger seat, and fits most hoverboard sizes.
Build Quality
Because of the larger parts, it is very easy to assemble and attach to your hoverboard. It is made with high-quality materials and comes with a rear suspension for better stability and a significant increase in ride quality. 
Smooth and Comfy Ride
With its larger wheel and built-in suspension, the Hiboy HC-02 Hoverkart is one of the most comfortable and smoothest hoverkarts in the market. It may not have a lot of bells and whistles, but it definitely provides the rider with absolute riding comfort.
Specifications
9. Two Dots Hoverboard Go Kart Conversion Kit
The Two Dots Hoverboard Go Kart Conversion kit is a full-blown hoverboard conversion kit that will transform your hoverboard into a fully-operational go-kart. It is an excellent option for pro go kart racing. When equipped with a high-end hoverboard, this option can handle the speed and power with ease. 
Build Quality
Because of its high-quality build and built-in racing controls, it is able to handle even the fastest hoverboards. Both the length and steering wheel are adjustable, making this a great option for both kids and adults. 
Ride Comfort at its Best
Aside from the easy installation and assembly, this option provides the rider with maximum comfort. It is equipped with an easy to use control system and excellent shock absorption. Overall, this budget-friendly hoverboard go kart conversion kit is a great choice if you want the ultimate racer experience.
Specifications
Go karts are not just for smooth surfaces. If you have an all-terrain hoverboard, you can match it with an all-terrain hoverkart seat attachment for your experience to go full circle. The Jetson 2.0, if not the best, is one of the best all-terrain hoverboard seat attachments for heavy-duty all-terrain riding. 
Build Quality
Because it is made for heavy-duty use, it is built with the necessary materials that can withstand use and abuse. It can handle a maximum weight of 270 lbs. Considering its capabilities, this hoverkart only weighs 16.3 lbs. 
Heavy-Duty Use
For a fairly-priced hoverkart hoverboard attachment, you get the best quality. It is more stable and larger than most hoverkarts, and this quality makes the Jetson 2.0 ride smoother than other options, especially on rough terrain.
Specifications
Buyer's Guide: How to Choose the Best Hoverkart and Hoverboard Go Kart Attachment Seats
Unlike choosing a hoverboard or an electric go kart, choosing the best hoverkart attachment is a lot easier because there are fewer factors to consider. Here are some of the things you want to check when selecting the right product:
Hoverboard Compatibility
First and foremost, you need to make sure the hoverkart is compatible with your existing hoverboard. Usually, pairing a hoverkart with a hoverboard will depend on the size of your hoverboard tires. You can read the description of each hoverkart option to find out their compatibility. 
Ride Comfort
Factors that can affect ride comfort on a hoverkart is the type of seat, the wheels equipped, ease of operation, and the actual size of the attachment. Make sure that the rider will fit comfortably, and is able to drive without compromising ride comfort. 
Height and Weight of the Rider
These are two factors to look into when selecting the best hoverboard go kart attachment. Your choice should be able to handle the rider's weight and accommodate their height. Fortunately, there are adjustable options that can cater to a wide range of rider height. 
Build Quality
The build quality goes hand in hand with comfort and the weight of the rider. The sturdier the attachment is, the more capable it is of handling a heavier payload. Make sure you get an attachment made with quality materials that are built to last. 
Hoverkart and Hoverboard Go Kart Attachment Wheel Quality
The ride quality and comfort will depend on the wheels of the hoverboard cart attachment. Some of the best options are equipped with pneumatic (1) or all-terrain rugged tires 
(2).
Ease of Operation
Lastly, you need to determine if you or your kid is more comfortable with controlling your hoverkart with handles or with a steering wheel. Both are very easy to learn, and it will depend on which option you will be most comfortable using. 
FAQs
References
zippyelectrics.com may earn commissions when you purchase items through links to external source such as Amazon. Read our affiliate disclosure here.