11 Best Electric Scooter With Seat 2023: Top Picks & Reviews
Nowadays, there are a lot of ways to get from point A to point B. Riding a car is cool and all, but if you live in downtown areas, traffic jams can get old. Lucky for us, innovative companies came up with zippy rides such as electric scooters as more fun and greener alternative ways of transportation. 
An electric scooter with a seat offers more comfort, especially for longer journeys to work, school, or whenever you need to travel over short distances. The scooters on this list will vary in speed, range, and feature set. If you have no idea about what makes a good electric sit down scooter, we got you covered. Keep on reading to learn how to the best product with our detailed buyer's guide.
Compare BEST Electric Scooter With Seat
Rank
Products
Feature
Website
Best Overall
✔ Good for any type of terrain
✔ Versatile electric scooter
Best for Commuting
✔ Excellent maximum range
✔ Sleek and elegant finish
Best Off-Road
Best for Kids
✔ Suitable for kids and beginners
✔ Twist-grip acceleration throttle
✔ Suitable for kids and beginners
Best for Teenagers
✔ A kinetic energy recovery system
Best Top Speed
✔ Excellent speed and range
✔ Hydraulic shock absorption
Best Range
Best from Razor
Best Cheap/Budget Option
Best Premium Option
✔ Keyless remote start and lock
Best for Heavy Adults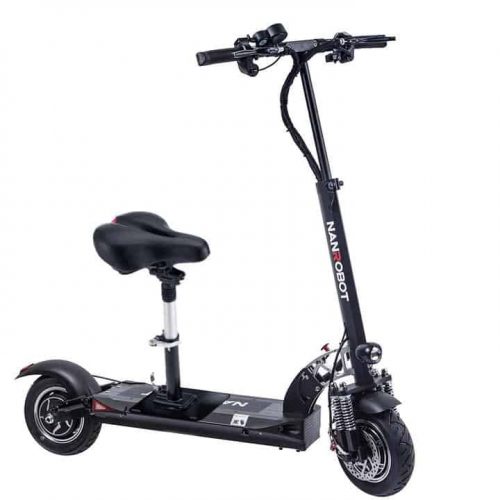 ✔ Excellent hill climbing
11 Best Electric Scooter With Seat in 2021
1. Nanrobot D4+ with seat
Without the seat, the Nanrobot D4+ is already an excellent scooter. You will have to purchase the seat separately for extra ride comfort, and it is so worth the extra cash. Overall, the D4+ is a comfortable ride that is jam-packed with a lot of features that put it at the top spot. 
Power, Speed, and Range
The Dual 1000-watt motor together with the 52-volt 23Ah Li-ion battery provides it with the boost you need. It can reach speeds up to 40 miles per hour and go distances of 40 miles. With the addition of the seat, it can comfortably climb steep hills with its maximum payload of 330 lbs. This electric scooter is strong enough even for heavier adults. If you are not comfortable with going too fast, you can choose between the two different ride modes. 
Durable Construction, Chunky Air-filled Tires, Great Suspension
This electric scooter is built with the highest quality materials such as the aluminum alloy frame. For a comfortable ride, the front suspension is equipped with four springs that make up for a smooth ride. For additional ride comfort, the rear wheel is armed with a shock absorber and fender. 
The perforated disc brakes are very reliable when you need to slow down. The chunky tires can go through almost any kind of terrain with ease. In addition, you will need a key to start the scooter, helping prevent theft.
Specifications
2. Segway Ninebot ES4  w/ Seat
The Segway Ninebot ES4 is a powerful and lightweight electric scooter that can go the distance. If you opt to buy the Ninebot Saddle, you can go for long distances with less strain on your legs and feet. 
Power, Speed, and Range
This electric scooter boasts an 800-watt motor with a max speed of 19 miles per hour. Even with the seat equipped the speed and range are not compromised as long as you are within the 220 lb. weight limit. If you are familiar with the Segway Ninebot ES2, it is basically the same model with an external battery that makes it reach a maximum distance of 28 miles. They did not modify the ES2 that much because it works fine as it is.
3 Speed Modes, Fast Charging, Lightweight and Portable
The Ninebot ES4 has 3 different riding modes to choose from. First, is the limit speed mode. With the help of your smartphone, you can limit the speed to your preference, making the Ninebot ES4 suitable for kids and beginners alike. The second mode is the "normal" speed mode which gets you to max speed, and the third mode gets you to max speed with extra power and acceleration.
Specifications
3. Mototec Adult Electric Scooter
This heavy-duty electric sit down scooter is a great choice for both off-road rides and commuting. It features a decent speed and impressive range, but the Mototec Electric Scooter shines in durability and ride comfort even on the roughest roads. 
Power, Speed, and Range
The massive 2000-watt motor gives the Mototec electric scooter with seat for adults enough power to take on the most challenging types of terrain. It can reach a comfortable speed of 17 miles per hour and reach an impressive range of 20 miles on a single charge. Charging time is pretty decent, as it only takes about 8 hours to get from 0% to 100%. 
Intuitive Simple Design, Great and Accommodating Customer Service
The simple design makes the Mototec electric scooter easy to use. It also has safety features like a horn to warn people in front of you. Despite its heavier weight, it can still fold if you need to store it away. The seat is also adjustable to fit riders of any height. If you have any questions about the product, they have awesome customer service that is always eager to help.
Specifications
If adults can enjoy an electric scooter with a seat, kids can too. The Razor 300S is an example of a kid's electric scooter with a seat. While adults can also enjoy this scooter, the power output and speed might be more enjoyable for children, mostly 10 years old and up.
Power, Speed, and Range
This electric scooter with a seat for kids is equipped with 250-watts of power that can reach speeds up to 15 miles per hour. It may not have that much range, but it is still appropriate for kids to enjoy riding back and forth around your neighborhood. Giving kids too much range may not be a good idea anyway. It takes half a day to get a full charge, which is pretty upsetting, especially for kids who cannot wait to ride. However, you can always schedule charging time and playtimes.
Easy to Operate, Lightweight, Quiet Chain Motor
Because Razor likes to make their products suitable for kids, this Razor electric scooter with a seat is easy to operate. You can easily accelerate with the twist throttle grip, and use the other hand for the brakes. By using only one hand for each function, kids will not get confused.
The Razor E300S is ultra-lightweight, making it easier for kids to get a good grasp of its handling. The quiet chain motor drive does not cause much disturbance as well. With a maximum weight load of 220 lbs, this scooter can support beginner adults as well.
Specifications
5. Hiboy S2 Electric Scooter
The Hiboy S2 Electric Scooter is a great choice for teenagers and adults as well. The design blends well with its features, components, and accessories such as the seat. Rest assured that the seat is comfortable for trips to school, hangouts, and errands. This electric scooter with a seat for teenagers has the right combination of safety and innovative features fit for youngsters. 
Power, Speed, and Range
The Hiboy S2 electric scooter manages to reach 17 miles on a single charge with a speed of 18.6 miles. This speed is exhilarating enough for young daredevils to test their might. Even if this electric scooter seems a little too fast, it does have vehicle-grade safety features such as ultra-bright headlights, brake lights, and rear light. In addition to that, it also features a double braking system that is not only safe to use but puts a little bit of power back in the battery every time you use the brakes.
Reliable, Easy to Use, Smartphone App
Overall, the Hiboy S2 is a very reliable option that is built to last even when used on different road conditions. It is easy to fold, making it ideal for commuting. Teenagers will also love the fact that Hiboy S2 is very easy to use. 
It also has a smartphone app that can be paired easily with the scooter via Bluetooth. Within the app, you can change the riding mode, toggle the cruise mode, turn on the lights, and lock the scooter. It also displays some important diagnostics such as speed and battery meter.
Specifications
If speed and power are what you want, the Nanrobot RS7 is what you need. It does not only run fast, but it also looks like the ultimate sports car of electric scooters. The neat design indicates that this electric scooter boasts power. You can also equip it with a comfortable seat to reduce fatigue, especially for long commutes. 
Power, Speed, and Range
The Dual 1600-watt motors provide the RS7 with power and torque to reach top speeds of 55 miles per hour. That is almost fast enough to ride on the freeway. It is not only fast, but it can also reach long distances. The range of the RS7 can reach up to 55 miles on a single charge. Charging time can take 6 to 10 hours, but having to wait that long is totally worth it. The RS7 can easily climb uphill at a 65-degree angle. That is a pretty steep climb, but there are no roads this electric scooter cannot handle. 
High-quality frame, Hydraulic Shock Absorption, Wear-resistant Tires
A fast electric scooter requires a sturdier frame, and the Nanrobot RS7's frame does not disappoint. Along with its wear-resistant 11-inch tires, comes great ride quality and maximum comfort. These are made to ride wet surfaces, sand, ceramic tiles, and more.
The dashboard has tons of functional controls such as the horn, lights, and ride mode selection. Adding a seat to a fast scooter will make your fast commutes a lot more comfortable than when you ride standing.
Specifications
This premium electric scooter features a low-rider Harley Davidson style. If you want a stylish scooter that can also go fast and reach further distances, the eDrift ES 295 2.0 is the electric scooter you are looking for. The best thing about this scooter's seat is the back support. Unlike other electric scooters with a seat, this model is pretty unique as it resembles a chopper more than a scooter.
Power, Speed, and Range
The speed is pretty decent at 30 miles per hour, and the battery also helps this electric scooter to reach a distance of 55 miles. Now, that is the distance worth the premium. This electric scooter is also street legal, you do not need to go to the DMV to get it registered. I am sure you despise the long lines that come with going to the DMV.
Unique Design, Excellent Suspension, Comfort
The best thing about this electric scooter is the design. It is basically an electric motorcycle, which is a better alternative for commuting if you want to save money on gas. 
Along with the comfy seat comes a great front fork suspension. It also has a large deck that you can use to carry your groceries. With an impressive maximum load, it can support heavier riders up to 350 lbs. 
The thick tires are substantial enough to ride the streets, off-road terrain and much more. The item itself weighs around 150 lbs, which is quite heavy. The weight of a scooter can also be a deal-breaker, but in the case of electric scooters, a heavy electric scooter means more power and durability, which means that this scooter can last for a long time with proper maintenance.  It also features an alarm system and a keyless remote starter.
Specifications
8. Razor EcoSmart Metro Electric Scooter
The Razor EcoSmart Metro electric scooter is a uniquely designed scooter that looks more of a bike and scooter hybrid. It has large tires that make the ride quality a lot better. It also has a large bamboo deck that feels great when you step on it. Overall, it is a lean and green machine.
Power, Speed, and Range
This Razor Electric scooter with a seat is one of Razor's best products yet. It has a 500-watt motor that is extremely quiet, you probably will not notice that the motor is turned on. It can reach speeds of 18 miles per hour, but the distance is a little bit disappointing. But nevertheless, it is still a useful alternative to go to the nearest shopping center or a coffee shop instead of using a car, or walking. 
Bamboo Deck, Large Tires, Good for the Environment
The EcoSmart Metro is made with eco-friendly materials such as the repurposed bamboo deck. It has large 16-inch tires that allow excellent ride quality, and cruising on this thing is such a great experience, as you hardly feel any bumps when riding on the sidewalk. Undoubtedly, the best electric scooter with seat. 
This electric scooter promotes awareness about the environment. By purchasing these kinds of scooters, commuting is so much more convenient. You will hardly notice that you are helping the environment by producing less carbon footprint.
Specifications
The SKRT electric scooter is a budget-friendly option for people who are looking to cop an electric scooter with a seat at an affordable price. It may be cheaper than other products, but it can still compete in terms of ride comfort, portability, and easy foldability. It also sports a great look and some features that do not usually come with cheap options. 
Power, Speed, and Range
With the help of its efficient 350-watt motor, the SKRT electric scooter can go distances up to 18.6 miles. Considering the price, it can still run with an 18 mph top speed. It may not be the cheapest option, but it is a cheap option that is worth buying. 
Key Start System, Comfy Air-filled Tires, Sleek and Simple Design
The SKRT electric scooter sports a simple design that resembles a "low-riding" motorcycle. The handlebars look fantastic, and the weight is pretty light despite its quality build. It is equipped with 8.5-inch pneumatic tires for added ride comfort and a disc braking system for more reliable and safe brakes. 
Overall, the SKRT electric scooter is a stylish and elegant ride that not only looks good, but it also rides extremely well. This electric scooter is definitely recommended for adults and teens looking for a unique scooter for commuting and cruising.
Specifications
The Outstorm Maxx is the premium scooter of all premium scooters. It is versatile and can be used for almost any application such as long commutes, cruising, and recreational use. It boasts insane speed and a much more insane range. Imagine an electric vehicle that can ride a whopping 83-mile distance at speeds that can reach up to 60 miles per hour. This electric scooter is definitely not a toy, but rather a powerful beast equipped with great features. 
Power, Speed, and Range
In terms of power, this electric scooter is equipped with a massive 5000-watt engine. It is powerful enough to ride on the freeway. However, 60 miles per hour and an 83-mile distance come with a hefty price tag. The Outstorm electric scooter excels in almost any aspect, making it a great choice for people who have money to spend on performance. 
Comfort Meets Style, Efficiency and Safety
This electric scooter features enhanced drive control and regenerative brakes for added efficiency. It features 3-speed modes and 2-power modes that allow you to configure the electric scooter's power output to one that works best for you. 
With one look at this scooter, you will know that the Outstorm Maxx is all about speed. It is also equipped with all the essentials, such as ultra-bright headlights, cruise control, a keyless remote, a horn and compass, a remote alarm system, and full spring suspension. If you want a premium option that has it all, you should definitely put this scooter on top of your list.
Specifications
11. Nanrobot D5+ with seat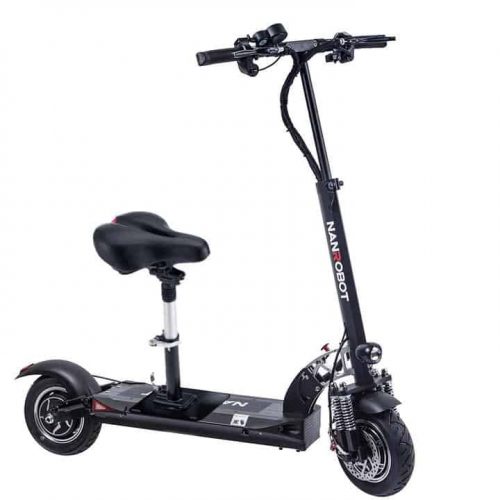 The Nanrobot D5+ is a foldable electric scooter that is filled with features and specs that make it the standard for performance. This beast of a scooter has enough power to carry a maximum load of 330 lbs without compromising speed and range. 
Power, Speed, and Range
It boasts of two 1000-watt motors and a 52-volt battery. The D5+ can reach a 40-mile top speed with an impressive 50-mile range. Heavy adults would not mind the weight of this scooter because it is an indication of a strong frame that supports a heavier rider. Even with the seat installed, you can still fold the scooter when needed. 
Ride Quality, Performance, and Intuitive Cockpit
This electric scooter is made for ride comfort. The suspension and shock absorption are superb. You will not feel any discomfort when riding on almost any terrain. The cockpit is filled with tons of onboard controls and indicators, such as a speedometer, a key ignition, toggle switches for lights, and many more.  
It is also equipped with safety features such as the alarm system that rules out the possibility of the electric scooter getting stolen. The handlebars feel good, as well as using the throttle and brake. When braking the electronic brakes do not need a whole lot of space when you need to stop. Overall, the Nanrobot D5+ is a high-performance electric scooter that can handle any kind of terrain with style and comfort.
Specifications
Buyer's Guide: How to Choose the Best Seated Electric Scooter
Before deciding on what electric scooter with a seat to buy, it is best if you determine and consider some factors such as power, speed, range, weight, capacity, etc. Make sure you choose one that is appropriate for you, your kids, and teenagers' skill level, weight, and purpose. 
If you need something to beat the traffic jams, you are going to need something with a longer range. Not all electric scooters have seats, so make sure the electric scooter you pick is one that allows for seat installation. This is recommended for a more comfortable commute. Now, here are the factors you should consider before picking up an electric scooter:
Purpose and Features
Consider the purpose. A lot of people pick up an electric scooter with seat for battling the daily commute. Some use it for recreational purposes such as hitting the trails and racing through rough roads. Whatever your purpose is, you will find the perfect scooter if you know exactly what you are looking for in an electric sit down scooter and how you plan to use it. Here are some of the extra features that electric scooters are equipped with:
Safety features such as headlights, brake lights

Bluetooth connectivity

A safety horn

Cruise control

All-terrain tires

Multiple riding modes

LED and LCD dashboards

Foldability 

And many more….
The addition of some of these features makes an electric scooter more expensive but much more interesting to use. 
Speed and Power Output
Make sure you choose an electric scooter that has enough speed and power to suit your needs. If your daily commute has a lot of inclined terrains, you will need a scooter that is powerful enough to handle the climb. 
Determine the lay of the land
Scooters with a motor of 250 watts or higher are suitable enough to handle going uphill, but you need to make sure that the scooter is appropriate to lift your weight as well.
Consider your weight
When riding electric scooters with a seat, most of your weight will be rested on the scooter, so you will need to choose one that can truly handle your weight. The speed of a scooter can get compromised by the weight of the rider. If you are on the heavy side, make sure you choose a scooter that is 500 watts or higher.
Range and Battery
Range is another factor to consider, especially for the purpose of commuting. The battery of an electric scooter will determine the distance you can reach on the electric scooter. Most models use a reliable lithium-ion battery that can last for a lot of charge cycles, but here are some tips to make the battery last longer:
Use the right and compatible charging

Never overcharge the battery

Store in a cool and dry place

Refrain from draining the battery to zero percent
Most electric scooters will display the battery life, so you can avoid running out of juice in the middle of your journey.
Safety
Another factor to consider is safety, which should be one of the top priorities, especially when riding zippy electronic rides. Safety is not only limited to the speed and brakes but the construction quality as well. Here are a couple of safety tips to keep in mind when selecting your next electric scooter:
Choose the right size and weight the rider can handle

Choose an electric scooter with good build quality

Choose an electric scooter with safety features such as horns, headlights, and rear lights

Make sure that the brakes are reliable and not abrupt

Make sure that the battery of the scooter is UL certified (

1

) to avoid leaks and explosions
Ride Comfort
The ride quality is another factor that can make an electric scooter worth the price. There are a lot of specifications that contribute to the overall ride quality such as:
Some high-end electric units built for off-road riding are equipped with shock suspension that makes the ride extra comfy. 
Usually, Pneumatic (2) or air-filled tires have better shock absorption when riding through road imperfections and small cracks.
An electric scooter with a seat is nice, but make sure that the electric scooter you choose has a soft and comfortable seat that will help make long journeys comfier. 
The wider the deck, the more comfortable your feet are. It is also much safer and keeps your feet on the board at all times. 
Weight and Load Capacity
Weight is another important factor, especially for electric scooters with a seat for kids. It is not safe for children to ride scooters that are heavier than they can handle. For commuters, make sure that the weight is comfortable for you to carry around. 
Design and Construction Quality
For many people, design is everything. The overall look and aesthetic can make it or break it for most people. So make sure you choose a scooter with a design that you will not regret buying. The construction quality should also be durable and appropriate for different electric scooter uses. 
Price
Lastly, make sure you choose a scooter that is within your budget range. Expect some trade-offs if you do not have enough to pay for the best electric scooter with seat. If money is not a problem, have fun buying a feature-rich electric sit on scooter for you. 
References
zippyelectrics.com may earn commissions when you purchase items through links to external source such as Amazon. Read our affiliate disclosure here.