Updated November 23, 2022
11 Best Cheap Electric Bikes 2022 | Budget E-Bike Reviews
Do you enjoy riding a bike to do quick errands around town or in your city? Well, riding a conventional bike might be a great idea for exercising your leg and calf muscles, but if you want to reach further distances with ease, riding an electric bike might be a good option. 
Because of the supply and demand, electric bicycles (1) are more affordable than ever. For under $1000, you can get some of the best cheap electric bikes that can honestly match up with premium quality options. 
In this article, you will discover some of the best value electric bike options that you can get at a lower price. These affordable electric bikes are good and reliable enough to even be your daily companion for your short commutes to work or school. 
To help you choose a cheap electric bike that is the best fit for you, I also added a complete buyer's guide at the end of the list, so make sure you check it out. 
Let's dive straight into the list.
Compare BEST Cheap Electric Bikes
Rank
Products
Feature
Website
Best Overall
✔ Heavy-duty kickstand
✔ All-terrain
✔ Puncture-resistant tires
Best Speed
✔ Lightweight
✔ Affordable
✔ Fast-charging
Best Range
✔ Excellent speed and range
✔ Durable frame
✔ LCD screen display included
Best for Commuting
✔ Reliable
✔ Good speed and range
✔ Durable frame
Best for Hills
✔ Affordable
✔ Built for heavy-duty use
✔ Lightweight
Smoothest Ride
✔ Smooth ride
✔ Reasonable speed and range
✔ Great for commuting
Best for Kids
✔ Easy to operate
✔ Quite fast
✔ Good range
Best for Teens
✔ Excellent performance
✔ Can reach long distances
✔ Fun and easy to ride
Best for Heavy Riders
✔ Durable frame
✔ Long-lasting battery
✔ Great for any terrain
Best for All Terrain
✔ Durable
✔ Premium feel
✔ Advanced LCD display
Best for All Terrain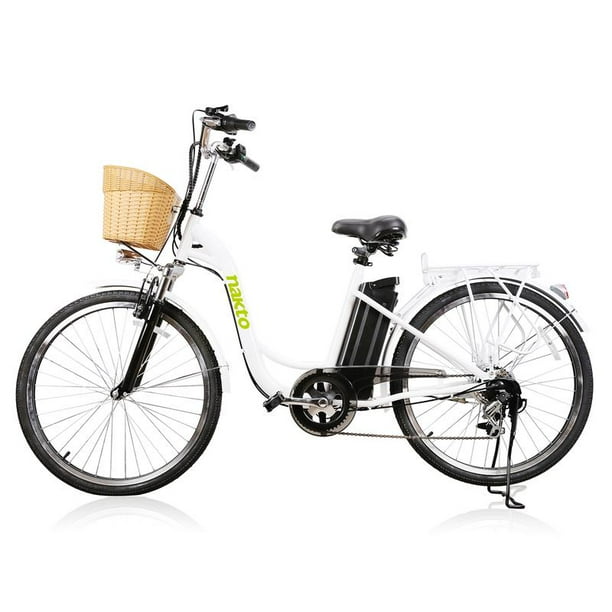 ✔ Highly functional
✔ Excellent performance
✔ Come with basket storage
11 Best Cheap Electric Bikes In 2022
1. Ride 1UP Core-5 Electric Bike
Power, Speed, and Range
This electric bike is sleek, and it can outperform almost any other cheap electric bike within its price range. With its 500-watt motor, you can reach speeds of up to 28 mph, and reach distances up to 40 miles, making it an excellent commuting machine. 
Sleek Look, Excellent Performance
This cheap electric bike is all about performance and looks. With its premium build, it can be mistaken for an expensive bike, but the Ride 1UP Core-5 is as affordable as any high-quality e-bike can go.
Specifications
Power, Speed, and Range
Another Ride 1UP electric bike, the Roadster V2 is one of the fastest options you can get in this price range. It may not be as fast as the best pick, but it does pack enough speed and power to take on your daily commute without breaking a sweat. 
Roadworthy E-Bike
This lightweight e-bike option is affordable and also roadworthy. Because of its stealthy motor, you would not even notice that it is an electric bike at first glance, which is a factor that a lot of e-riders are looking for these days.
Specifications
3. NCM Prague Electric Mountain Bike
Power, Speed, and Range
Now, commuting is one of the main purposes for getting an e-bike, and if you want to experience an easy bike ride for your daily travels, the NCM Prague is the way to go. Not only is it reasonably fast, but you can also reach distances over 40 miles on a single charge, thanks to its reliable pedal-assist feature. 
Reliability at its Finest
Aside from being equipped with a good battery, it is also a reliable and durable option that is made to last.
Specifications
4. ANCHEER 26-Inch 250W Commuting Electric Cruiser Bike
Power, Speed, and Range
A lot of people prefer a more practical bike for their commutes, and the ANCHEER e-bike is as practical as it can get. With its cool and fun style and practical design, it makes your daily commute a breeze. It can reach distances up to 40 miles, which is more than enough for making short daily commutes. 
Practicality at its Finest
This cheap electric bike features a Japanese-style commuter electric bike.
Specifications
5. ANCHEER 500W Electric Mountain Bike
Power, Speed, and Range
If your daily commute on a regular bike requires you to climb up steep inclines, it can be very tiring. You want to get to work as fresh as you can so you have enough energy to take on the day, and this bad boy right here is a great option if you live in a hilly area. 
Excellent Climbing Power
With its 500-watt motor, you can use it to climb hills, and because it is a mountain bike, you can also use it on any terrain and for going downhill as well.
Specifications
Power, Speed, and Range
This cheap electric bike is a great option if you want something that can ride at safe speeds. It does not run as fast as others, but you can reach a maximum range of 25 miles which is more than enough for city riding.
Long Distance Comfort
If you value ride comfort more than anything else, this e-bike is equipped with the right tires for the job. The fat tires can roll over almost anything without the rider feeling the slightest bumpiness, providing you with one of the smoothest rides ever.
Specifications
7. Swagtron EB6 Kids Electric Fat Bike
Power, Speed, and Range
Finally, an electric bike that is designed for kids. The Swagtron EB6 allows you and your kid to bond and ride challenging trails. It can go as fast as 18.5 mph, with the option to lock the maximum speed for younger riders. The range on this thing is also impressive, allowing your kids to ride up to 20 miles on a single charge. 
Tough Trails, No Problem
This affordable electric bike is equipped with fat tires that allows your kid to take on almost any type of terrain. Make sure they are wearing safety gear if you decide to do some extreme mountain trails.
Specifications
8. Schwinn Monroe Electric Bicycle
Power, Speed, and Range
Teens these days are all about simplicity, and this minimalistic e-bike option will fit them perfectly. It is a sleek-looking e-bike that packs serious range and power. It can comfortably ride up hills, and it can reach 20 miles per hour and a max distance of 45 miles on a single charge. 
A Commuting Beast
This option is truly a commuting beast that teens will appreciate. They can use it for getting to school, getting to work, or enjoying a cruise with you or some of their best buddies.
Specifications
9. X-Treme Scooters Electric Powered Mountain Bike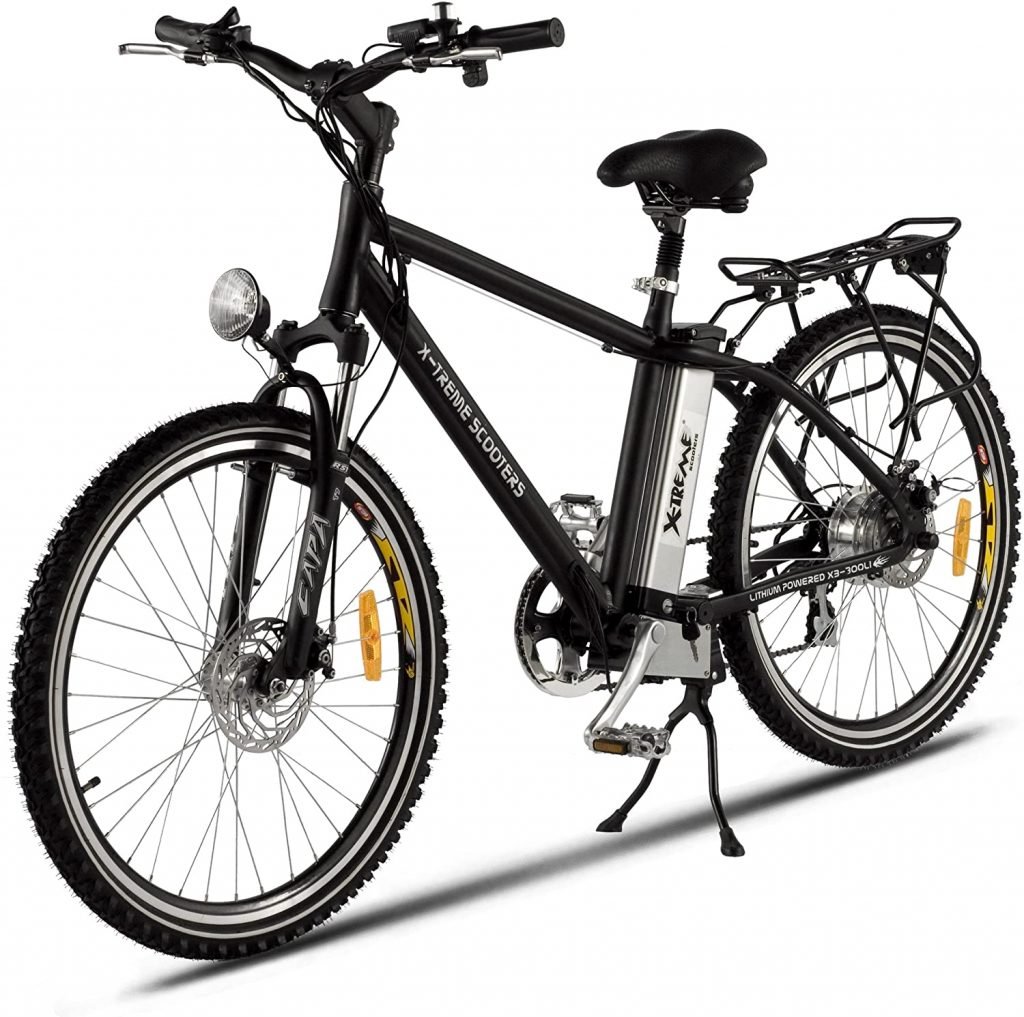 Power, Speed, and Range
This electric bike is not exactly the cheapest electric bike on the list. However, it will suit the heavy riders pretty well. With its power output and durable frame, it can carry riders up to 350 lbs. with absolute ease, and without compromising its performance. 
Handles Most Terrain Types with Ease
It is an electric mountain bike that you can use for mountain trails and for commuting. With its high-quality components and durable tires, this bike is surely built to last and withstand the test of time.
Specifications
10. RipCurrent Electric Bike
Power, Speed, and Range
This e-bike is also not the most affordable electric bike on the list, but if you are willing to spend a tad more for performance, this option is your best bet. It is equipped with a 750-watt motor, and it can run as fast as 28 mph and reach a whopping 40 miles on a single charge. 
Built to Last
Aside from its fantastic performance, this bike is built with the ideal materials for a bike to last longer. Plus, for an electric mountain bike of this caliber, it is pretty light enough to carry.
Specifications
11. NAKTO City Electric Bicycle
Power, Speed, and Range
For a cheap e-bike, this option is reasonably fast. It can reach a max speed of 20 miles per hour. With its efficient motor and battery, you can reach a maximum distance of 20 to 25 miles on this thing. 
Great for Errands
This cheap electric bike may look like a regular bike, but it is one of the best options on this list, especially if you are looking for a daily option to do quick errands. Not only is it very comfortable to ride, but it also comes with basket storage for your groceries and belongings, and extra storage on the back seat for more.
Specifications
Buyer's Guide: How to Choose the Best Cheap Electric Bicycle in 2020
Purpose
Well, most people ride electric bikes as an alternative to riding a car. They do it to avoid traffic jams, especially during rush hour, and to reduce their carbon footprint. If you are looking for an alternative for your daily commute, make sure you get one with enough speed and range to get you to the places you need to be. 
Power and Speed
Power and speed vary between these options, and choosing the right speed will basically depend on your preference. Some people like to ride fast, while others like to chill. Honestly, as long as the bike you choose can climb hills in your city, then you are good to go.
Range
The range is an essential factor to consider, especially when commuting, so make sure you choose one with enough distance to get you to and from your destination without losing power. Plus, you can always use the pedals when you are on flat or downhill terrain to save battery for your trips. 
Safety
Safety is another factor to consider, so make sure the bike you choose is equipped with good brakes and lights so you are seen by vehicles at night.
Durability
Durability is important, especially if you plan on riding your electric bike on a daily basis. Make sure you get one that is made with durable materials, such as titanium or aluminum alloy (2). Some of the best cheap electric bikes are durable enough when maintained properly. 
Now that you have the information, use it to choose the best electric bikes on the market. You'll surely make a wise choice. 
FAQs
References
zippyelectrics.com may earn commissions when you purchase items through links to external source such as Amazon. Read our affiliate disclosure here.