10 Best Electric Bike Conversion Kits 2023: Top Picks & Reviews
If you enjoy riding a bike as a way to get around your city instead of taking the bus, the subway, or riding your car, there is a way to make riding a bike a lot easier. Riding a bike is a great way to stay fit and maintain your body weight, but it can get really tiring sometimes, especially when you have to climb steep hills in your area. 
Fortunately, there are ways to enjoy the benefits of riding a bike, while doubling the distance you can reach without resorting to riding a car or bus. 
An electric bike conversion kit will allow you to convert any existing bike and turn it into a fully-functional electric ride. If you are thinking that doing so is a lot of work, think again. Converting your bike with an e-bike conversion kit is simple and easy. In fact, some conversion kits can be easily attached and detached in seconds.
In this article, you will discover some of the best electric bike conversion kits that will allow you to use your bicycle as a fully-functional electric ride without spending thousands of dollars. Plus, we will also throw in a buyer's guide at the end of the article that will help you find the right option for the bike that you own. 
If you are on the fence about converting your bike into an e-bike, that is totally understandable. But just so you know, there are the benefits in doing so:
The conversion will cost significantly less than buying an e-bike
You can double your commuting range and ride further distances
It is a safe way for commuting to work or doing quick errands
Bikes are much easier to park when you reach your destination
It will reduce your carbon footprint, making it great for the environment
You can save money on gas
You can save your energy when you get tired of pedaling
What is an E-Bike Conversion Kit?
An e-bike conversion kit is an external motor that you can install on your existing bike and transform it into an electric bike. 
Some options usually come with batteries that best complement the power of the motor, while others will allow you to choose the battery you want to attach to your bike. The advantage of picking your own battery is that you can buy something with a longer range, allowing you to commute on longer distances.  
Electric Bicycle Kit Type
There are three types of e-bike conversion kits, and they all have their advantages and disadvantages. Depending on your bike, your biking style, and preference, you can choose between the different types of conversion kits available on the market. 
Rear Wheel E-Bike Conversion Kit
As the name suggests, a rear-wheel e-bike conversion kit is a hub motor that is installed on the rear wheel of your bicycle. A rear-wheel e-bike conversion kit is the most challenging option to install on a bike, and if you don't want to go through the trouble, some options are much easier to mount. 
Despite the difficult installation process, there are still some advantages in choosing a rear hub motor, such as better control and grip. If you want to convert your bike into an off-road mountain bike, the rear wheel motor hub will be the best electric bike conversion kit for better control on technical bike trails. 
Pros:
They are usually more powerful than other options
It is not exposed too much
It is easy to install in terms of wiring
Cons:
Tough installation process
The heavy motor might lift the front of your bike when accelerating
It takes time to mount
Front Wheel E-Bike Conversion Kit
The front-wheel e-bike conversion kit is very easy to mount, and most commuters prefer this option over the rear wheel hub. However, a front-wheel motor hub kit does not fit all types of bicycles and may require you to change the fork. However, some specialized kits are made for better compatibility, especially for fat-tire bikes. 
Front-wheel electric bike conversion kits are usually better for commuting because it includes a lot of features and accessories such as a speed controller, an LCD screen, a hand or thumb-controlled throttle, and a battery for some options. Plus, front-wheel motors usually come with a pedal-assist sensor that is great for climbing steep hills. 
Pros:
Easy to install
Comes with pedal assist or cadence sensor
Best for commuting
Best for hill climbing
Works for converting tricycles as well
Cons:
Does not usually come with batteries
Not for bikes with front shocks 
Might need modification for some bikes with low forks
Takes a little getting used to, especially when turning
Mid-Drive E-Bike Conversion Kit
A mid-drive or crank-drive motor is installed on your bike's gearbox, allowing you to shift gears with ease. These e-bike conversion kits are all about performance, plus they are a lot smaller than a front or rear wheel electric bike conversion kit. 
These motors are more efficient and smooth when it comes to performance. However, they are not as fast as hub motors, but you can still use them for the urban commute. 
Pros:
They provide a smoother ride
They provide the best performance
They are stealthier than other options
Cons:
It cannot be repaired when it fails to operate
Expensive
They are loud
Compare BEST Electric Bike Conversion Kits
Rank
Products
Feature
Website
Best Overall
✔ Easy to install
✔ Excellent performance
✔ Comes with an intelligent motor controller
Best Premium Option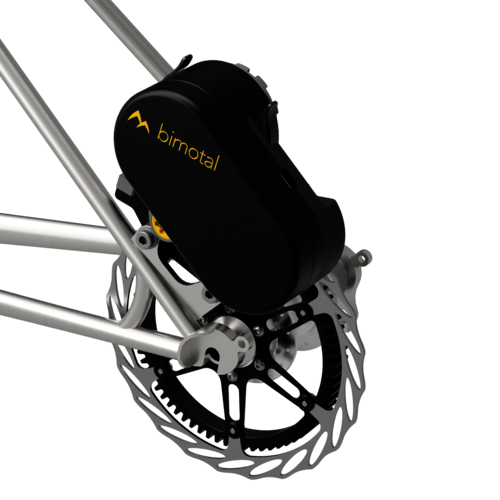 ✔ Easy to install
✔ Removable
✔ Innovative design
Best Budget Pick
✔ Easy to install
✔ Comes with most accessories
✔ Powerful
Best for Commuting
✔ Excellent performance
✔ Affordable
✔ Versatile
Best Speed
✔ Insanely fast
✔ High torque
Best Range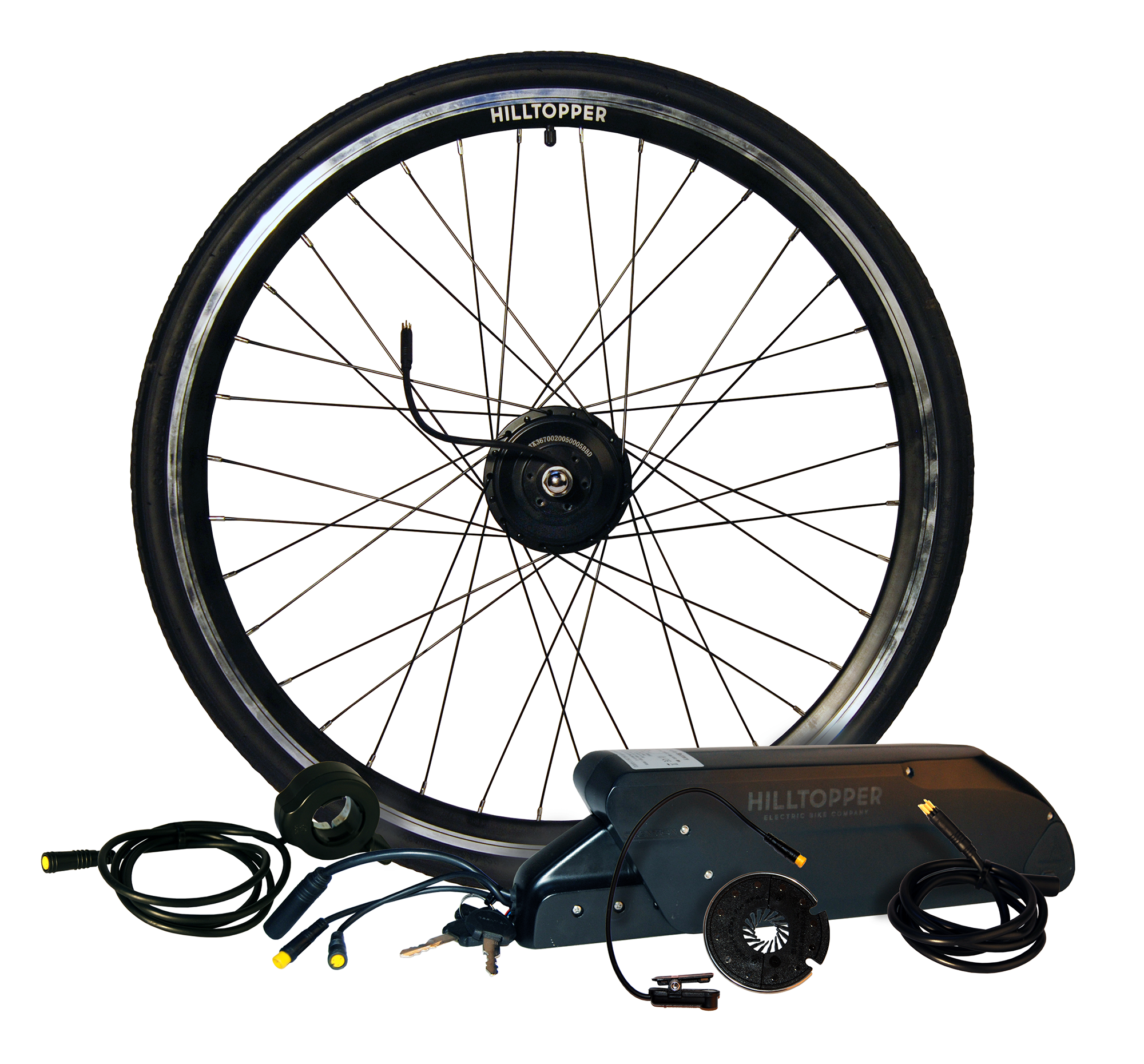 ✔ Easy to install
✔ Lightweight
✔ Comes with a battery gauge
Best for Kids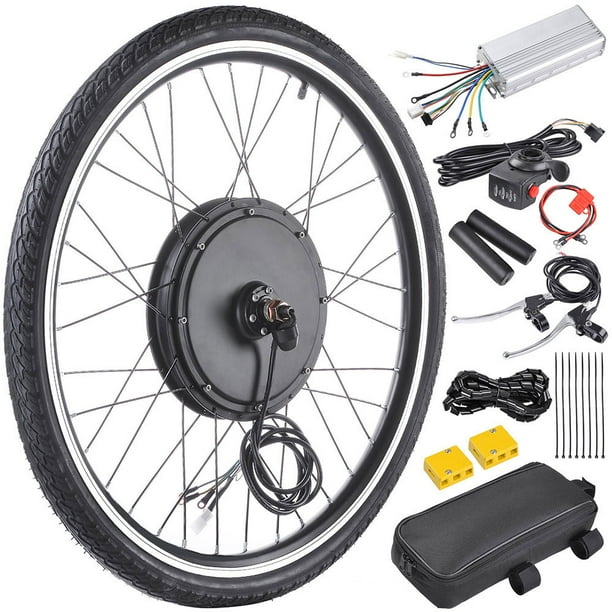 ✔ Safe for kids and adults
✔ Ultra-quiet motor
✔ Comes with a thumb throttle
Best for Teens
✔ Runs at safe speeds
✔ Easy to install
✔ Comes with everything you need
Best for Heavy Riders
✔ Great performance
✔ Comes with an LCD monitor
✔ Comes with tons of accessories
Best for All-Terrain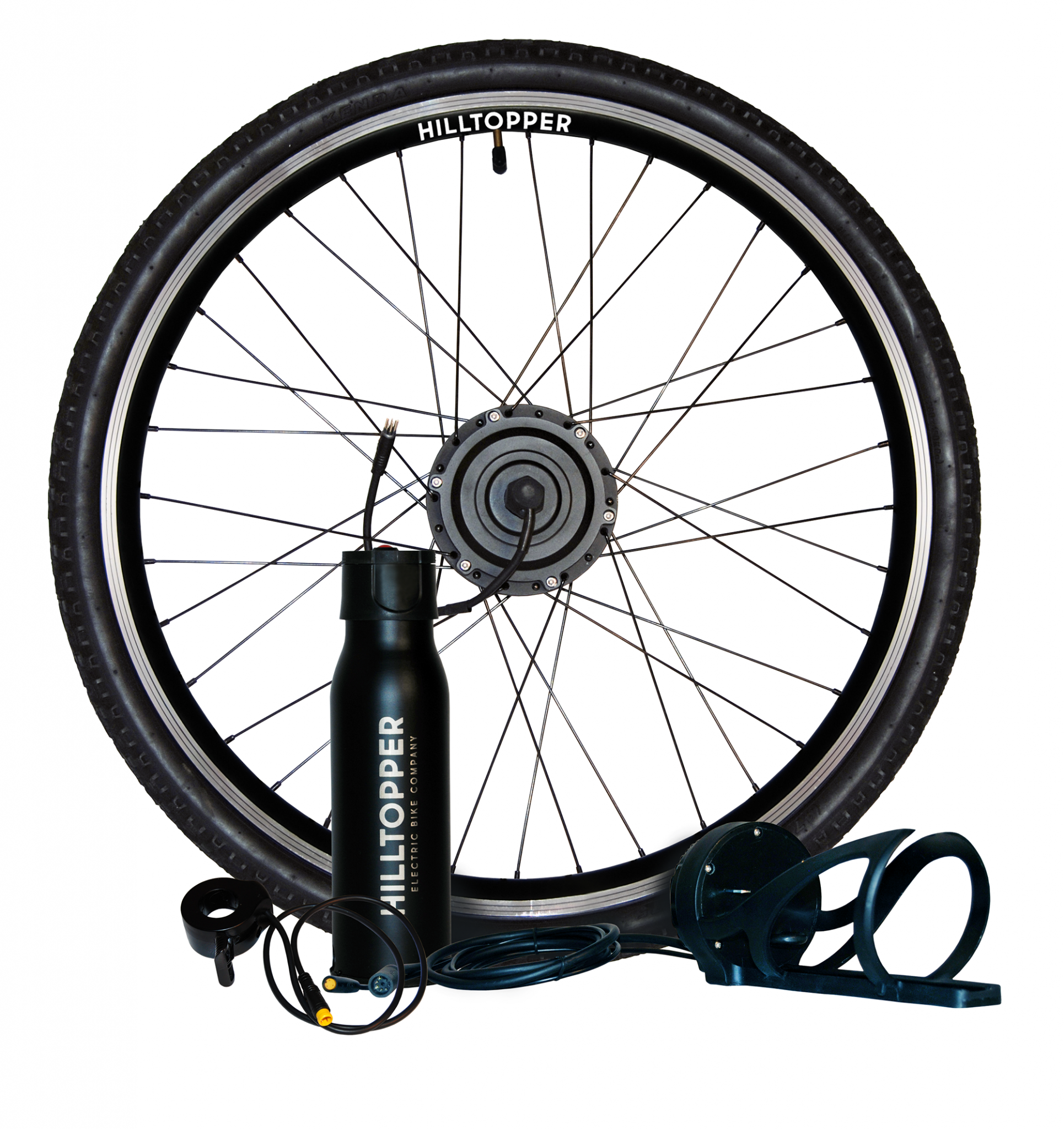 ✔ Equipped with pedal-assist
✔ Easy to install
✔ Compact and lightweight battery pack
10 Best Electric Bike Conversion Kits In 2021
1. Anbull Front Wheel E-Bike Conversion Kit
The Anbull 26" front Wheel E-bike Conversion Kit is one of the best options. It is versatile, easy to install, and equipped with a 1000-watt motor that allows you to ride fast and comfortably, especially on hills. Plus, the design is pretty stealthy for a front-wheel option.
High-Performance Option
With its high-performance hub motor, you can ride at a maximum speed of 28 miles per hour. It is equipped with nylon tires, stainless steel alloy spokes, and stainless steel alloy wheels. Aside from the powerful motor, this e-bike conversion kit is a very durable option that is made to last.
Specifications
2. Bimotal Removable Electric Bike Conversion Kit
The Bimotal Electric Bike Conversion Kit is the best option that money can buy in terms of performance, convenience, and durability. It is an innovative option with a futuristic design that is easy to install. Because it is equipped with a direct drive motor, there is no added wear on the chain or cassette, making it last longer than other direct drive or mid-drive conversion kit options. 
Removable Option
The best thing about this conversion kit is that it is removable. You can mount it on and off in seconds. Plus, it is a modular option that allows for dual motors and battery options for better speed and performance.
Specifications
3. ModWheel Front-Wheel Electric Bike Kit with Battery
For a budget-friendly option like the ModWheel front wheel electric bike kit, it is pretty powerful and smooth when it comes to performance. It is a front-wheel option that has a wide compatibility range, and it is pretty easy to install. With its 1000-watt motor, you can reach up to 25 mph with ease. 
Your Commuting Buddy
This option is a great way to transform your existing bike into a commuting option for work, school, and for doing quick errands. It comes with most accessories, such as the throttle, LCD, and more. However, you will need to choose your own battery. This option works best with a 48V battery as it brings out its full potential.
Specifications
4. Voilamart Rear-Wheel Electric Bicycle Conversion Kit
The Voilamart Rear-Wheel Electric Bicycle Conversion Kit is a great option for commuting. If you equip this option with a 48-volt battery, you can bring out the full potential of its powerful 1000-watt motor, making it a commuting and trail beast. 
Rear-Wheel Stability
Because it is a rear-wheel conversion kit, it is a little challenging to install, but it gives you more stability when riding on dirt roads and downhill trails. In terms of performance, the Voilamart Rear-Wheel e-bike conversion kit does not fall short, despite its low price.
Specifications
5. Calibike E-Bike Conversion Kit
If you are planning on installing an electric bike conversion kit to your bike to improve your speed, the Calibike E-bike Conversion kit is your best bet. With its 72V battery and 5000 watts of power, you can reach speeds up to 55 miles per hour. It is kind of like a gas-powered motorcycle, but make sure you are wearing safety gear and chose a durable that can handle this amount of power. 
Torque and Power
All of this power would be nothing without the right amount of torque, and this option did not fall short on those aspects. Aside from its performance and high torque, it also comes with convenient accessories, such as the LCD screen that allows you to keep an eye on your speed and battery life.
Specifications
6. Horizon Electric Bike Conversion Kit
If you are looking to convert your bike into a commuting machine, the Horizon Electric Bike Conversion Kit is the option you are looking for. With its efficient battery, you can reach distances over 50 miles on a single charge. You can also extend the range further when you are pedaling. 
Stealthy and Clean
Unlike other options, this conversion kit comes with a cover that concealed the battery and motor, making your bike look sleek. It may not have as much power, but it can run at speeds over 20 mph with ease.
Specifications
7. Yescom Front-Wheel Electric Bicycle Conversion Kit
The Yescom Front-Wheel Electric Bicycle Conversion Kit is a pretty safe option for both kids and adults. It performs great, easy to install, and easy to operate. 
Quiet Motor
The most notable thing about this option is probably the quiet motor. Plus, unlike other options, the Yescom electric bike kit provides you with the wheel and the tire, so all you need to add is the recommended battery, and you are good to go!
Specifications
8. Swytch E-Bike Conversion Kit
The Swytch E-Bike Conversion kit is simple but powerful. Everything from the motor to the wheel spoke design looks very cool, and most teens will really appreciate the performance and design. 
Universal Kit
This electronic bike kit is universal, meaning it is meant to fit most bikes, so you don't need to worry about compatibility. It comes with an efficient battery and motor that you can easily fit on any bike with disc brakes.
Specifications
9. Bafang BBS02B Mid-Drive Electric Bike Motor Kit
If you are looking for a bike with a high weight capacity, the Bafang E-bike conversion kit will make a fantastic choice. With the right weight distribution, you can easily climb hills with a max load of 300 lbs, depending on your bike. 
Performance and Power
This e-bike conversion kit is a mid-drive option that makes a great option for stability, performance, and compatibility. It works with most bikes, and it provides sufficient power for climbing hills and carrying a heavy payload. It is great for commuting to work or grocery shopping.
Specifications
10. Sprinter Electric Bike Conversion Kit
The Sprinter Electric Bike Conversion Kits is the last option on the list, and we did save one of the best for last. Aside from its high-performance qualities, this option is truly made to last and take you to places for a long time.
Reliability at its Finest
If you are looking for a durable and reliable option for commuting, this electric bike conversion kit is built with quality materials. Plus, it fits most bikes as well as trikes. It can run up to 16 miles per hour, and it comes with a battery that can reach a max distance of 12 miles or more on a single charge.
Specifications
Buyer's Guide: How to Choose the Best Electric Bike Conversion Kit for You
Compatibility
Before deciding on an electric bike conversion kit, the first thing you need to do is to make sure that it is compatible with the type of bike you want to convert. Most rear-wheel conversion kits are compatible with most bikes, but they are pretty challenging to install. 
Make sure you check the compatibility of the conversion kit. It will help you narrow down your choices, making it easier for you to choose based on your needs. 
Power and Speed
In terms of power and speed, it all comes down to preference. If you enjoy riding fast, you should choose a high-end option that will allow you to ride faster without pedaling. However, you still need to make sure that your bike can handle such power. 
Choosing a powerful motor is also ideal for riding your bike uphill or on different types of terrain and trails. 
Range and Battery
Some options do not have an included battery in the package, so make sure you choose the right battery that the motor requires. If you want more range, choose a battery with higher amp hours and voltage. A higher voltage will also enable you to ride faster, especially on trails or uphill climbs. 
Most of all, you need to ensure that the battery you choose is safe and UL 2272 certified (1). This certification means that the battery will not overheat when charging, and it will less likely cause any fire-related incidents. Some electric bike conversion kits that include a battery are usually equipped with the best option, so there is no need for further modification. 
Extra Features
Some options include features, such as an LCD monitor that displays motor and battery diagnostics, pedal-assist sensors, speed controllers, and more. Having extra features is totally up to the rider, but some features are pretty nice to have. 
Conclusion: Which is the Best Electric Bike Conversion Kit?
All of the electric bike conversion kits mentioned on the list have their own strengths and weaknesses. Choosing the best one will depend on your needs and bike compatibility. 
However, if we had to choose one option that shines in most aspects, it would be the Anbull E-bike Conversion kit. It just doesn't disappoint when it comes to overall performance and durability. 
FAQs
References
zippyelectrics.com may earn commissions when you purchase items through links to external source such as Amazon. Read our affiliate disclosure here.