Teamgee H5 Electric Skateboard Review 2022
The Teamgee H5 electric skateboard is one of the most affordable models you can get your hands on. A lot of cheaper models do not do well as the H5 when it comes to performance and durability. This Teamgee electric skateboard, however, shines most when it comes to riding comfort. The drop-through design makes it more stable, and the thin deck adds a little flex for a more refined ride.
Why do you think the Teamgee H5 deserves all the hype it's been getting? 
Let's find out as we dig deep into its overall design, features, and more in this in-depth Teamgee H5 Blade review. 
Speed and Power output
First, let's talk about how the Teamgee H5 Blade performs when it comes to speed and power. It is equipped with two 380-watt hub motors that allow this electric skateboard to reach speeds of up to 20 miles per hour. For a skateboard, the speed is exhilarating. 
Riding 20 miles per hour on a standing skateboard may not be suitable for beginners. Fortunately, the Teamgee H5 has two riding modes, with one that lowers the maximum speed limit, making it suitable for younger riders and beginners. 
You can change between the two riding modes using the remote. Riding in low gear makes the Teamgee H5 Blade much more efficient and safer for beginner riders. If you want to kick things up a notch, you can switch to the high gear and ride the board at max speed.  
The Teamgee H5 Blade has enough power to climb hills at a 20% grade. The weight of the rider might compromise the speed, especially on an incline. With the variable speed wheel on the remote, going downhill is easier and much safer because the longboard will not lose control and go over the speed you set.
Range and Battery Performance
This Teamgee electric skateboard can reach distances of up to 11 miles or ride continuously for 2 to 3 hours. It is capable of commuting short distances between bus and subway rides. With the amount of distance this electric skateboard covers, you can use it for getting around campus and doing short daily errands. 
The battery is made out of an ultra-thin lithium polymer (1) that you would hardly ever notice. When you first look at this Teamgee electric longboard, you would not mistake it for an electric ride because the ultra-thin battery is hardly noticeable. 
One of the best things about the battery is its charging time. You will only have to wait for two hours until it is fully charged even when the juice was zeroed out (0%). This means you can charge it in-between uses or while you're at work or in school. You are sure to have enough juice to get home.
Design & Construction Quality
The Teamgee electric longboard is well-built and well-designed. At first look, you would get a classic longboard vibe with its drop-deck and dual strips on the grip tape. The Teamgee logo on top looks nice. The bottom of the deck sports a black and red faded design that adds to the surface aesthetic. 
Because the battery of this electric skateboard is ultra-thin, it does not take up the whole bottom deck, giving more room for adding the perfect faded graphics. 
Also, this Teamgee H5 Blade electric skateboard is very light. Weighing a little over 13 lbs, it is effortless to carry around, especially if your commute requires you to ride the subway or a bus.  
You can buy the Teamgee H5 Blade in a variety of different colorways, including the wheels. The board package will include the board itself, a charger for the board and remote, the remote, a skateboard tool, skate lights, and nose and tail stoppers to protect the deck from getting chipped.
Deck:
The 37-inch deck is made out of 10 plies of Canadian maple and one layer of fiberglass, making the board only 12 mm thin. It is also flexible, allowing the rider to dig deeper into carves when coming into sharp corners. The added flex adds more enjoyment to your commute or joyride. 
Wheels: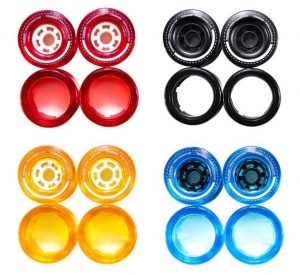 The 90 mm urethane feels great. It is soft enough to grip turns and has the right amount of durometer (2) so you can bust out slides and do some pre-drifts. You also do not have to worry about getting flat spots on the wheels, because they can be replaced if you wear them out too soon. 
The size of the wheels is suitable for riding on asphalt or concrete surfaces. Even when passing through small cracks and tiny bumps, the ride remains comfortable. 
Trucks:
The trucks feel great with the right amount of rebound when turning and carving.
You can adjust the trucks to the tightness you prefer. Some people like them a lot loose so they can carve and pretend like they are surfing the concrete waves. 
Remote Control:
The remote control has one of the most unique designs for electric skateboard remotes. It does not have Bluetooth connectivity because everything you need is already built within the remote itself. It is ergonomically designed and intuitive. It even has an LED flashlight to help you ride in lowlight conditions. 
The LCD on the remote displays the speed, riding mode, battery life, and even the direction you are heading. It also includes a sturdy adjustable strap to prevent you from accidentally dropping the remote.
Braking System
The regenerative braking system feels safe to use. It does not jerk and abruptly stop, making the rider more confident in using them more often. Because the brakes are regenerative, using them actually charge the battery. This makes the electric skateboard more energy efficient. 
The brakes are responsive, but it could use a little more improvement.
Safety
The Teamgee H5 Blade is a safe board that is suitable for beginners and pros alike. It comes with attachable red lights to make it more visible at night. You can also use the built-in LED flashlight on the remote to signal vehicles, and to help you see clearly when riding in low light conditions.  
Braking and accelerating feel safe enough, making it an excellent choice for a first electric skateboard. Make sure you purchase the proper safety gear for additional safety when riding. 
Brand & Customer Service
Teamgee used to operate as an OEM and ODM of various electric components, but they did not stop there. With their eagerness to grow as a company, they started to develop their own brands of hoverboards and electric scooters. In 2016, they came out with their first electric skateboard and did well, especially in the Chinese market.
Now, Teamgee is starting to gain its well-deserved recognition in the United States and the whole world for developing and manufacturing innovative electric rides. 
The Teamgee H5 electric skateboard is just one of the products from their growing line of fantastic electric skateboards that people can enjoy at an affordable price. 
The Teamgee H5 comes with a 90-day warranty (3). If there are some factory defects or something wrong with the product you ordered, the company offers free repair service. Unfortunately, they do not do refunds. Replacement is possible if a defective product is beyond repair.
Shipping takes 5-8 business days in the United States. If you have questions and concerns about their products, you can contact them through their email address which is [email protected]
Downsides
The responsiveness of the brakes could use some improvement

Lacks Bluetooth

Limited features for its price range

The range could use improvement
Who Should Buy the Teamgee H5 Electric Skateboard?
The Teamgee H5 electric skateboard is for people looking for an affordable option with features that are useful for commuting. It is for laid back skaters who want to make their commute more interesting and fun. This product is also for beginner riders who want to learn how to ride an electric skateboard.
Since it is an affordable option, it makes an excellent first skateboard and gift to your loved ones. It may not be as fast as other models, but you are still getting a good deal in terms of ride quality and design. 
Final Verdict
The Teamgee H5 Blade deserves a score of 3.75 out of 5 on our stoke meter.
It is a decent electric skateboard. Compared to high-end boards like the Boosted Stealth, the H5 Blade needs a little work, but it is still a great choice because of its affordable price. It has a great design and decent speed, but the Teamgee H5 really stands out in terms of portability. It is very lightweight and ultra-thin, however.
Teamgee H5 Electric Skateboard Video Review
Teamgee H5 Specifications

Top Speed
20 MPH

Deck Length
37 inches

Motor
2x 380-watt motors

Range
11 Miles

Battery
36-volt Lithium-ion battery

Charge Time
2 hours

Max Load
220LBS

Weight
13.7 LBS

Wheel Size
90mm with a 55mm contact patch

Wheel Type
Urethane wheels

Brake System
Regenerative electronic braking system

Warranty
90-day warranty

Price
$$
FAQs
References
zippyelectrics.com may earn commissions when you purchase items through links to external source such as Amazon. Read our affiliate disclosure here.